CURIOSITIES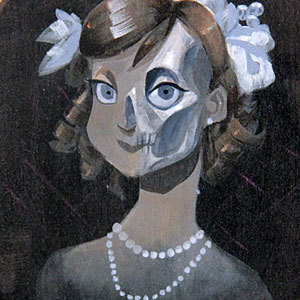 CURIOSITIES
October 27, 2012 - November 11, 2012
Opening Reception / Oct 27, 7:00PM - 11:00PM


view pieces
view photos
share this event
Talented couple Mike Yamada and Victoria Ying have been collaborating on animation-inspired illustrations for some time. Most recently, the duo set out on a Kickstarter.com book project that successfully funded more than ten times their original goal. "Curiosities: An Illustrated History of Ancestral Oddity" is the tale of a brother and sister who inherit an old, mysterious mansion and all of the odd relics that are housed inside within. In celebration of the book's release, the couple has teamed up with Nucleus to present a very curious exhibition, indeed! Over 40 talented artists have imagined themselves exploring the oddities and creatures that one may discover in an ancient, spooky mansion.
"Saturnine"
| Cuddly Rigor Mortis
OPENING RECEPTION DETAILS:
Join us for this spine-chilling book release/
COSTUME party
and exhibition opening, as our gallery will be transformed into a spooky mansion teeming with eerie artwork and hair-raising treats.
Demo / Workshop 3pm - 6pm (details HERE)

Costume Contest! (WIN A $150 PRINT SHOPPING SPREE)

Mike and Victoria signing their new book

Artists in attendance

Free Admission

Complimentary refreshments
Hourly Raffle Giveaways
Exhibiting Artists:
Alina Chau

Andy Harkness

Bonnie Lui
Brigette Barrager
Carrie Liao

Casey Love
Cuddly Rigor Mortis
Dan Krall

Danni Shinya Luo
Daron Nefcy
Drake Brodahl

Elsa Chang
Eric Diaz

Erik Martin
Fawn Veerasunthorn
Graham Annable
Griselda Sastrawinata
Gwynne Simmons

Helen Chen
Jackie Huang
Jared Andrew Schorr

Jenny Lerew
Jeremy Costello

Joey Chou
Josie Portillo

Josie Trinidad
Junyi Wu

Kenard Pak
Leo Matsuda

Liana Hee

Mab Graves
Meg Hunt

Michael Slack

Michelle Romo

Mike Yamada

Miyuki Kanno

Natalie Hall

Nate Wragg
Neysa Bové
Oliver Akuin

Patrick Awa
Seb Mesnard

Sherwin Abesamis
Tang Heng
Victoria Ying

Wilson Swain

Zane Yarbrough