Edward Scissorhands 20th Anniversary Tribute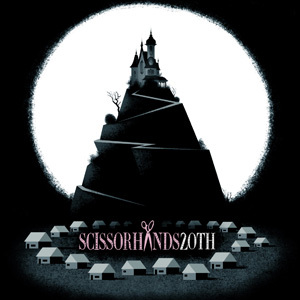 Edward Scissorhands 20th Anniversary Tribute
April 16, 2011 - May 9, 2011
Opening Reception / Apr 16, 7:00PM - 11:00PM


view pieces
view photos
share this event
Simultaneously featured in our Atrium Gallery:

Adventure Time: A Look Behind the Land of Ooo
April 16, 2011 - May 5, 2011
Opening Reception / Apr 16, 7:00PM - 11:00PM


view pieces
view photos
share this event
The curatorial online project Scissorhands 20th created by artist Sebastien Mesnard, is an ongoing online blog that features the work of artists from across the globe, creating works inspired by the story and its' characters and executed through the artists own unique approach.
In collaboration with Sebastien Mesnard, Gallery Nucleus will be showcasing a selection of original works from the Scissorhands 20th blog. The exhibit will highlight the works of over 40 artists, including paintings, drawings, prints, sculptures, etc. and unite enthusiasts and fans in celebrating the 20th anniversary of Tim Burton's classic love story and its unforgettable characters; Edward, Kim, Peg and a band of colorful suburbanites.
Opening Reception highlights include
:
Free refreshments and ambrosia served.
5 Free raffle tickets for those dressed in their best Scissorhands-inspired attire. Tickets can be purchased for $2.00 each. *
Raffle prizes includes original artwork, Anniversary Edition Edward Scissorhands DVD, Avon gifts, and Nucleus gift certificates.
Gifts and samples provided by "Avon Lady" (Johanna Figueroa).
This is an all ages event.
Admission is free.
*
All raffle tickets are also valid for Adventure Time merchandise. Raffle drawing at 10:30PM.
Artists Featured:


Alina Chau
Amelie Fléchais
Andrea Kalfas
Aurian Redson
Aya Miyazaki
Becky Dreistadt
Benjamin Lacombe
Bill Robinson
Bob Doucette
Brigette Barrager
Brittney Lee
Celine Loup
Chuck Groenink
Colin Jack
Clement Lefèvre
Cory Godbey
Dan Thompson
Dave Perillo
Denny Khurniawan
Drake Brodahl
Drazen Kozjan
Emmanuelle Walker
Eren Blanquet
Graham Annable
Israel Sanchez
Jérémie Fleury
Jerrod Maruyama
Josh Parpan
Justin Parpan
Ken Garduno
Ken Turner
Laura Iorio
Lilidoll
Lorelay Bové
Lorena Alvarez
Luisa Uribe
Marietta Ren
Martin Hsu
Mindy Lee
Nicolas Duffaut
Nicolas Léger
Roberto Ricci
Seo Kim
Uli Meyer
Vincent Ehrhart-Devay
Xander (Alex) Leighton
Xavier Collette
Zaruhi Galstian
..and more!
For more information, please see:
http://scissorhands20th.blogspot.com
Visit us on Facebook:
http://www.facebook.com/event.php?eid=182314455145520