Starting January 12th we will resume our regular hours of 12pm - 8pm daily, closed on Mondays.
The Art of DOOM Eternal Virtual Panel / Q&A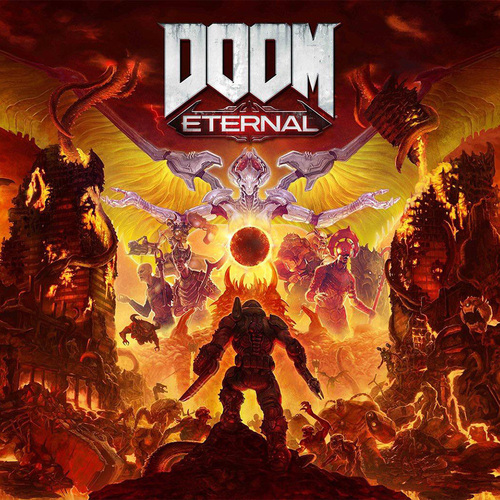 October 18, 2020
Oct 18,
1:00PM - 3:00PM
Calling all DOOM fans!

Order a copy of The Art of DOOM Eternal from our site and get a signed bookplate as well as gain exclusive access to an online (Zoom) Q&A with the game director and several concept artists! Tickets to the online panel are also available for $5. This is a rare opportunity to look behind the scenes, learn about making of the game and ask team questions related to the visual development process for the highly-acclaimed DOOM Eternal game!

ONLINE Q&A w/ DOOM ETERNAL CONCEPT ART TEAM
On October 18 at 1:00PM PDT, Nucleus will be hosting a live 2 hour Q&A with the DOOM Eternal Concept Art Team via Zoom.
Customers that purchase a copy of The Art of DOOM Eternal from our website, from now till 11:59PM PDT October 17, will be emailed access to the Zoom Session.
After you have made your purchase, you can email your questions for the concept art team to gallery@gallerynucleus.com. Please use "DOOM Eternal Questions" in the subject line.
The deadline to submit questions is on October 15 at 10:00AM PDT. Keep in mind that questions will be pre-screened, not all questions will be answered, artists will answer questions according to their own discretion.
Zoom info will be sent no later than 11:00AM PDT October 18.

Q & A PARTICIPATING ARTISTS

Hugo Martin, Game Director
Jon Lane, Concept Lead
Alex Palma, Senior Concept Artist
Colin Geller, Senior Concept Artist
Emerson Tung, Senior Concept Artist
Ethan Evans, Concept Artist
Joe Marquis, Associate Concept Artist


ABOUT THE ART OF DOOM ETERNAL
Dark Horse Books and id Software join forces to present The Art of DOOM Eternal, encompassing every detail you've come to love from DOOM! An oversized, full-color hardcover art book containing concept art and commentary from the development of DOOM Eternal, the next entry in the iconic first-person shooter series.
The newest chapter in the quintessential game franchise from id Software is here. Witness DOOM Eternal! This epic volume explores the art and development of the hotly anticipated sequel to the 2016 Game Award-winner for Best Action Game! Explore the twisted demonic invasion of Earth, and the cultist UAC facilities, and plunge into otherworldly and unknown locations new to the DOOM universe. Admire the dangerous, glimmering edges of the Slayer's arsenal and armor. Examine the ancient designs and breeds of Hell's soldiers and lords--all in gloriously designed full-color images straight from the files of the game's artists themselves!