Starting January 12th we will resume our regular hours of 12pm - 8pm daily, closed on Mondays.
Emotional Color of the Spider-Verse w/ Drew Hartel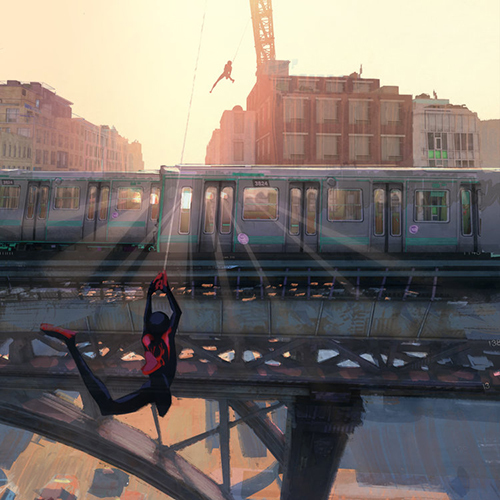 October 17, 2020
Oct 17,
1:00PM - 6:00PM
Spider-Verse Visual Development artist Drew Hartel will be teaching a 5 hour online workshop all about "Emotional Color: How to get your emotions on screen and have others feel them too."
REGISTRATION

$120 (5 hour online workshop 1pm - 6pm PST)
Zoom class sign in details will be emailed to registered students about 2 days prior to class and no later than October 16, 9pm PST
Registered students will have access to a recording of the class for a limited time.

SYLLABUS / SCHEDULE

1:00PM - 3:00PM
Drew's Story
Phenomenology - The most important concept to any artist
The role of a vis dev artist and how to specialize in light and color
3:00PM - 3:15PM
Spider-man: Into the Spiderverse - walkthru of how the lighting process worked on this film.
break
3:15PM - 6:00PM
Spiderverse Sequential Color Key Demo
Bringing out your own emotions, the role of music in pre-visualization
Color Block in and finding a story within subtlety.
Q&A
ABOUT DREW HARTEL
Drew has been a visual development artist on Spider-Verse, Cars, Coco, and most recently he is at Netflix on an untitled Taika Waititi film.

drewhartel.com
@drewhartel