The Art of HOME (Panel & Signing featuring Adam Rex)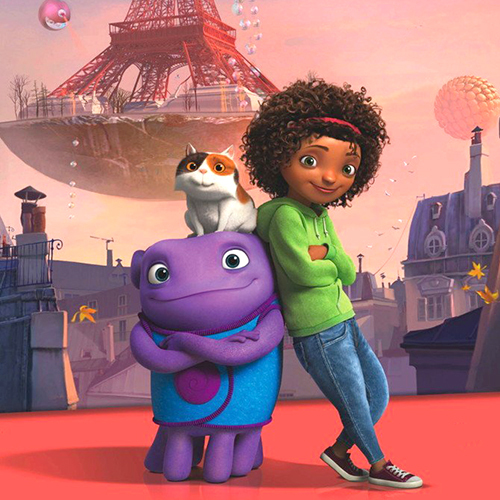 March 28, 2015 - April 19, 2015
Mar 28,
1:00PM - 4:00PM
ART of HOME PANEL / BOOK SIGNING (March 28)
Based on the novel
The True Meaning of Smekday
by Adam Rex, comes the fun and exciting animated adventure, HOME by Dreamworks Animation.
Come see rare behind the scenes artwork by artists from the production design, storyboard, and visual development teams. Also on display in the gallery will be originals by writer/illustrator/creator of smekday, Adam Rex. Come see the original artwork that started it all!
Bring your questions for the Q&A session and meet the artists one-on-one as they sign copies of the book The Art of Home.


Opening Reception for Adam Rex's solo exhibition will continue to 8pm after the panel ends at 5pm. Adam Rex will stay in the gallery till 7:30pm

$5 Admission at the Entrance or FREE
w/ purchase of the Art of HOME book
(FREE Admission after 5pm)
Only 200 attendees will be admitted (open to all public after 5pm)
Only 80 seats available (20 reserved seats and 60 first come first serve general admission seats)
Standing room and floor seating also available
Outside books will be subject to a $10 fee
Front Row Reserved Seats available online $20
(see top)
Comes in 2 options: Seat Only or Seat w/ a Book
Waives admission fee.
Guaranteed seat in the first 2 rows, only 20 seats available.
No need to wait in line or get to the event early just to get a good seat.
Comes with a free bottle of water.
Guaranteed first in line during the artist signing time.
Get 10% off your book purchase.
General Admission and Signing Instructions
1. Please purchase your admission tickets / books at the register before waiting in line out side to get a general admission seat.
2. Upon purchase of an admission ticket / book you will be given a raffle number. This number signifies your position in the line to receive artist signatures after the panel.
3. Once you have purchased your admission ticket / book and have your raffle number, you can wait in line to be seated. First come first serve. (Those who purchased a front row reserved seat will not have to wait in line)
4. Attendees will be allowed to enter roughly 15 - 20 minutes before the panel begins. Simply show your admission / book receipt at the gallery entrance and you will be admitted.
5. After Q and A, when artists are available to sign books your number will be displayed on the wall in numerical order. (Those who purchased a front row reserved seat will be first in line)
Featured Panelists:

Adam Rex
- Creator
Jason Scheier
- VisDev Artist
Le Tang
- Storyboard Artist
Todd Wilderman
- Head of Story
Ravinder Kundi
- VisDev Artist
more panelists to be listed soon...
Event Schedule:
2:00 - 3:00 pm
Home Panel / Presentation
5:30 - 8:00 pm
Adam Rex exhibition Reception / Signing