Starting January 12th we will resume our regular hours of 12pm - 8pm daily, closed on Mondays.
Graphic Narrative Course with Kazu Kibuishi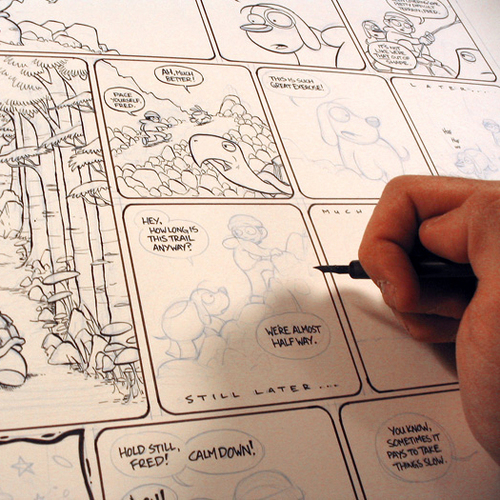 April 18, 2009 - May 16, 2009
Kazu Kibuishi will conduct a long awaited course on graphic narrative storytelling.
WHEN:
This is a five course class that will be held each Saturday from April 18th to May 16th (9:00am - 12:00pm).

WHAT:
This course is designed to help students take their ideas and turn them into comics ready for publication. Here are some of the things covered in the course:

- Thumbnails: We will begin by taking ideas and developing them into stories by sketching comics in thumbnail form. Students will be guided through the process of analyzing stories in order to apply the knowledge to their own work.

- Penciling and Inking: With speed and efficiency being the central focus, we will step through ways to maximize production time and to hone the students' drafting skills. We will be going through various drawing exercises that help with perspective and gesture drawing abilities.

- Digital Painting and Coloring: After the work is scanned, we will discuss digital painting techniques to bring the panels to life in full color. We will also discuss working with art directors, production artists, and printing houses in order to keep everyone involved in the printing of the comic on the same page.

- Publishing: Whether a student is interested in self-publishing or working with a publisher, we will discuss all the steps necessary to get a book to print, and how to approach the business side of comics.
Each student will be required to complete one 10-page comic by the end of the course, so be ready to draw!


MATERIALS NEEDED:
Basic note taking and drawing supplies.