Gallery Nucleus is proud to welcome ceramics artist Sarah Koik for an in-depth lecture and guided workshop focusing on the most essential of forms: the vessel.

Workshop schedule:


1PM - 2PM: Lecture "From Material to Form to Function - The Path of a Ceramic Vessel"

2PM - 2:15PM: Break

2:15PM - 5PM: Sculpting with clay

After the lecture, Sarah will walk each attendee through the process of creating their own unique vessels which will be glazed and fired by Sarah herself, in her studio. Admission includes cost of materials as well as the firing process, and the finished ceramics will be available for pickup through the gallery. Deepen your relationship with craft and function by creating a unique ceramic vessel under the guidance of a master craftsman.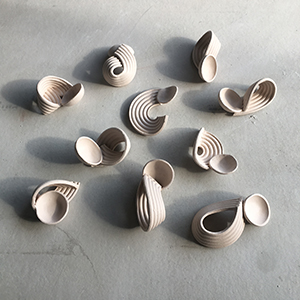 From Material to Form to Function - The path of a Ceramic Vessel
Ceramics sometimes might seem like it has hit a new level of popularity, but being that it has been around almost as long as our species and takes a plethora of forms around the world, following a vessel from its raw materials to its finished state reveals the real depth and breadth of this rich and nuanced medium. Join Sarah Koik for an overview of the path of a ceramic vessel - touching on the overlapping narratives of science, art, and the human experience.

Workshop details:

cost of materials is included in admission price, including clay, glaze, tools, and also includes firing by Sarah Koik
Sarah will teach a variety of handbuilding techniques to teach you to create a salt bowl and spoon set from start to finish

all abilities welcome

pieces will be collected at the end of the workshop, glazed and fired by Sarah in her studio, and returned to each guest upon completion

Complimentary snacks and refreshments provided
About Sarah Koik
Sarah Koik makes objects and projects that bring attention to things that often go unnoticed.
Inquiry and exploration are at the core of Sarah's practice. With a background in designing and managing education programs at science museums and universities, Sarah's work is rooted in process and investigation. Her pieces are both referential and adding to the narrative-- new while familiar, serious while playful. Her work is in private collections around the world and sold in stores and galleries throughout the US, Canada, Australia, and Japan.
Sarah received her degree in sculpture & ceramics in 2007, and founded her studio in 2015. She lives and works in Los Angeles.