PinPalPalooza (Fall)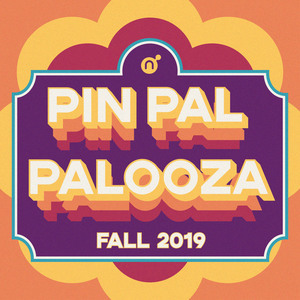 PinPalPalooza (Fall)
September 28, 2019
Opening Reception / Sep 28, 11:00AM - 5:00PM


share this event
The days are getting shorter, the weather is cooling down, and we're gearing up for our fourth Pin-Pal-Palooza, a convention for all things enamel/lapel pin-related designed by your favorite artists and more! We've invited many vendors from Los Angeles and beyond, and they'll be setting up shop in our space on Saturday September 28th, 2019. Join us as we welcome new vendors and new exclusives!

EVENT DETAILS
Saturday, September 28th 2019
11:00 AM – 5:00 PM

FREE ADMISSION, Open to the public, No RSVP, All ages welcome


EVENT HIGHLIGHTS

RAFFLE RULES
Select handful of winners will be announced every hour on the hour. Last announcement at 5:00 PM.
Previous hour raffle tickets will be discarded after each winning announcement and not carried over to the next hour.
One pin per winner.
All winners must be present in order to win a pin.
PIN TRADE STATION RULES
Trade station will be located in the gallery on a framed felt board.
Take 1 pin, leave 1 pin.
Hard/soft enamel pins only. No wood, no acrylic, no homemade crafts.
Trades are limited to 2 per person
FEATURED VENDORS

Alex Ahad o_8
Baer and Lamb
Blue Ruin Co.
Bottled Monster
Captain Senpai
Charm Towne
Chivaun Fitzpatrick
Dewdrop Galaxy
Doggie Drawings by Lili Chin
doodle dose
DUST + HALOS
Farias
Genevieve Tsai
GhostRoots
Heidiroo
Hey It's Meu
Lauren Abhay
Le Tea Leaf
Maintaining Mediocrity
Midnight Dogs
Miranda Dressler Illustration
Native Gold
Nellie Le
Netherway Workshop
Pin Musuem
Red Bean Art
Quirking Off
Riselle Trinanes
Soy Christy
Sparklebombb
Thom Foolery
Tiny Deer Studio
Unprivileged Trading Company
Victoria Orolfo
Vivien Wu
VOODESIGNS
VUDUBERI


Please welcome our friends at Wolf's Brew Coffee, who will be selling delicious iced coffee & cold brew 11 am - 3 pm!