The Bliss Express Show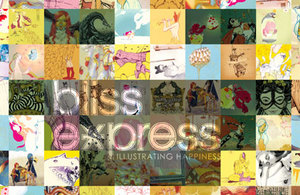 The Bliss Express Show
October 7, 2006 - October 26, 2006
Opening Reception / Oct 7, 7:00PM - 11:00PM


view pieces
view photos
share this event


BUY SIGNED BOOKS HERE!
*Music provided by luv-tek
*Free refreshments and sweets from Temptations Chocolate Factory

Gallery Nucleus and Guu Press are proud to present The Bliss Express Show, marking the first release of the art book Bliss Express: Illustrating Happiness (December 2006).

In Bliss Express, 21 of today's most striking pop artists explore the idea of happiness. From Japan and Korea to China, France and North America, they evoke fashion, rock 'n' roll, nature, graffiti, movies, money, sex and Sunday morning cartoons in tackling a universal question. The author, Althea Chia, says, "Our hope is to have produced a book that just about anyone, art connoisseur or not, would want to pick up from the table and look through, and then, leave, taking something—at least one thing—from it."

Bringing together short stories, artist quotations, biographies and over 280 images in full color, Bliss Express paints the normalities and absurdities of modern life. It is a reel of snapshots of the artists' visions and obsessions—their unhinged, funny, heartbreaking journey to that elusive inner state of grace.

The exhibition, characterized by marked pleasure and wrenching aesthetics, will showcase the Bliss Express artists' evocative works for all to view in the flesh. Artists Seonna Hong, Aya Kondo, Ogi , Fuco Ueda, Hiroki Mafuyu, Yuko Shimizu, Marcos Chin and author Althea Chia are among those who will be in attendance at the opening. Come and enjoy this showing. The sweet redolent order of chocolate-covered hors d'oeuvres, along with beverages, will be served complimentary throughout the night.
Event Exclusives
---
---
---
---
---