Spellbinders: Meyoco / Heikala / Sibylline Exhibition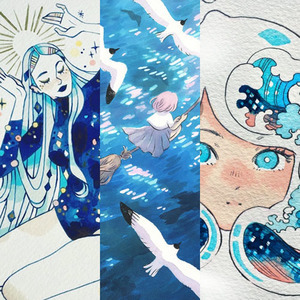 Spellbinders: Meyoco / Heikala / Sibylline Exhibition
March 23, 2019 - April 7, 2019
Opening Reception / Mar 23, 7:00PM - 10:00PM
98 days away

add to calendar (.ics)
share this event
Simultaneously featured in our Atrium Gallery:

Illustration Workshop w/ Heikala
March 23, 2019
Opening Reception / Mar 23, 1:00PM - 5:00PM
98 days away

add to calendar (.ics)
share this event
An exhibition of new original works by three Spellbinding artists:
Heikala
Meyoco
Sibylline Meynet
Opening Reception March 23, 2019
Heikala and Sibylline will be in attendance.
Heikala will be launching her new book: The Art of Heikala
Ramune and snacks and sweets served.
New prints and exclusives to be released.
More details to be announced...
About Sibylline
Sibylline is a French illustrator based in Paris, France. When she is not working on comics and commissions, she likes to draw women in a peaceful environment, surrounded by stars, flowers, and clouds. Her work is inspired by vintage designs with a focus on the feminine superhero.