World reknown artist Junko Mizuno will be back in LA for this special gallery event in celebration of her latest publication.
A Junko Mizuno Coloring Book.
OPENING RECEPTION / SIGNING (6pm - 9pm)
The exhibition will feature her original drawings from the coloring book embellished with gold ink.
Fans will have a chance to collaborate on a giant coloring page.
Free refreshments and colorful snacks treats served.
New limited edition print and enamel pin to be released on opening night.



ARTISTS PANEL (6:00pm)
Junko will be doing a special slide show / Q & A on her past body of work
The panel starts at 6pm and the reception will begin promptly after it ends
AUCTION

The cover ink illustration of Junko's Coloring Book will be on display and available for auction (one shown below)
This will be a silent auction. Bids can be placed in person or by phone.
Bids must be made in increments of $50 or more. The starting bid is $650
Auction begins Saturday May 25th at 1:00 pm PST and ends Tuesday May 28th at 2pm PST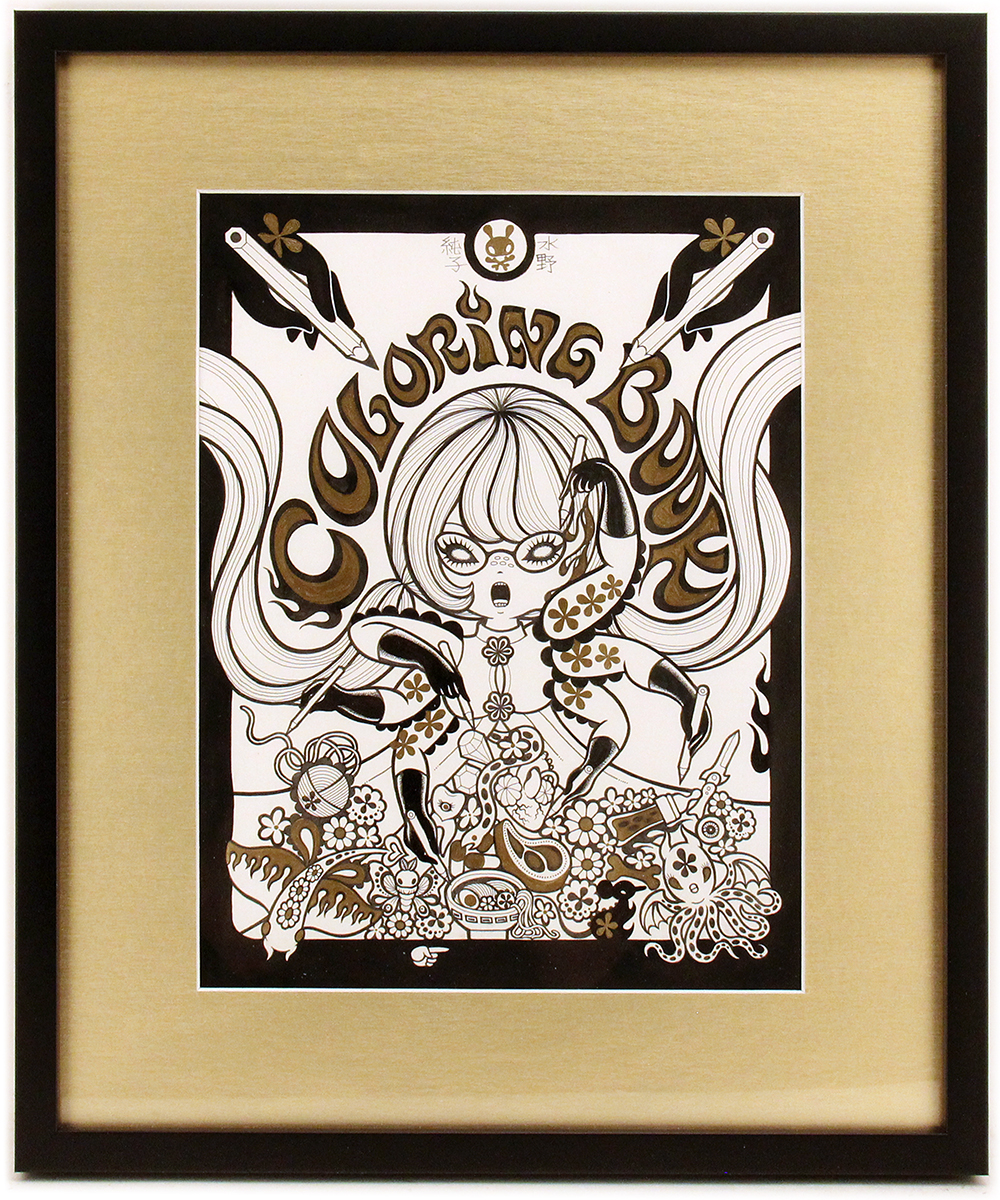 AUCTION INSTRUCTIONS
IN PERSON BIDS:

Please fill out the Bidding Form in the store to receive your bidding number and instructions.

CALL IN BIDS:
Call-in bids will be available on a limited basis.
The auction will open at 1:00 PM PST May 25th 2019. Call in to sign up and get a bidding number to place bids.
Bidders must give a Credit Card # to Hold bid.
Call-In bids will only be available during our normal business hours. After hour call-ins will not be accepted.
Call the store at 626-458-7482 when you are ready to bid.
We will inform you of the current highest bid for the piece. Place your bid. Bids are made in increments of $50 or more than the current bid.
Final time to call and place a bid is 1:45 pm PST May 28th*. You must call in with your FINAL HIGHEST bid at that time. After 2:00 PM we will call to inform you ONLY if you are the winner of the lot and will authorize the charge.
If you are outbid, you will NOT be charged.
ABOUT THE BOOK
Junko Mizuno's distinctive lines are yours to fill with the colors of your imagination. This coloring book is packed full of images of strong, sexy women, strange foods, adorable aliens, powerful gods, unusual paper dolls, and more. Junko Mizuno's iconic images are enchanting to fans and new followers alike, mixing sweetness and cuteness with creepiness and erotica.
*Comes with a full-color sticker page!

*Purchase through our website for signed copies.

*We will be closed on Monday, May 27th and no bids will be accepted until we open for business on May 28th.