A Vision In Balloons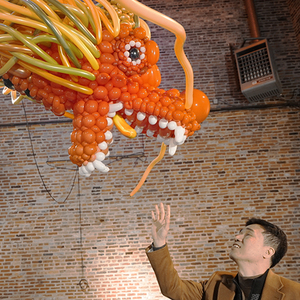 A Vision In Balloons
August 22, 2018 - August 28, 2018
Opening Reception / Aug 25, 1:00PM - 5:00PM


share this event
Hongseok Goh is a blind balloon artist from Seoul, South Korea. Mr. Goh began losing his eyesight at the young age of 19 and taught himself how to twist balloons so he would have a job later in life. His sculptures are astounding in size, complexity and detail. Mr. Goh has exhibited around the Asia Pacific region and the American Visionary Art Museum in Baltimore. His work at the Gallery Nucelus is is his first time in the Western US.
*FREE admission / all ages welcome / no rsvp needed

August 22 - 24: Mr. Goh will start his installation / sculptural process (guests are welcomed to stop by 12 - 8pm)
August 25: Sculpture complete. Opening Reception with the artist at 1pm.

August 28: The show will close with a public popping ceremony, open to all to participate at 7pm. Pins and earplugs will be provided!

Click here for more of Hongseok Goh's amazing work!