For Fans By Fans presents Puglie - The World is Your Doughnut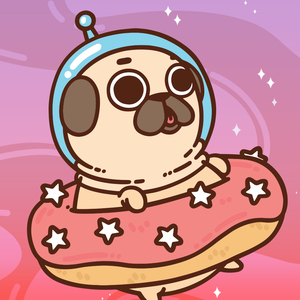 For Fans By Fans presents Puglie - The World is Your Doughnut
July 14, 2018 - July 29, 2018
Opening Reception / Jul 14, 12:00PM - 8:00PM


view pieces
view photos
share this event
Simultaneously featured in our Atrium Gallery:

Hiraeth: A Tula Lotay Solo Exhibition
July 14, 2018 - July 29, 2018
Opening Reception / Jul 14, 6:00PM - 9:00PM


view pieces
share this event
For Fans By Fans
presents
Puglie - The World is Your Doughnut


From July 14th - 29th, FFBF will be curating an event hosted at Gallery Nucleus to celebrate Puglie, a curious little pug who loves food and adventure! All pug lovers, owners, enthusiasts and lovers of cute pups are invited to join us!
Bring your dog!
It's going to be quite a pug-a-palooza!
Featuring

Puglie Art
Sweets Puglie House Installation
Puglie Doughnut Room Installation
Giant Puglie Balloon Installation
Giant Puglie Dog Bowl Installation
VIP Swag Bag
Puglie Creator Meet & Greet
Puglie Ice Cream
Puglie Gift Shop
About Puglie

Puglie is the creation of Vancouver based graphic designer Euge Leung, who hopes to make people go "Awww" with this fat little potatoes confusing adventures. From dressing up as various foods, and characters from popular culture, to living the unusual pug life, Puglie's roly-poly journey is just beginning!
The Curator - For Fans By Fans

We are For Fans By Fans! Our mission is to create a community that bridges the gap between fans, artists, and the worlds that inspire them. We are home to the most creative officially licensed designs. Our brand offers apparel and accessories featuring fan-created designs from My Little Pony, Adventure Time, Homestuck and more! We give independent artists the unique opportunity to gather and submit their art as merch ideas. Top designs are selected and submitted and approved designs are released as official merchandise.