Motor Crush Vol. 2 Book Signing w/ Babs Tarr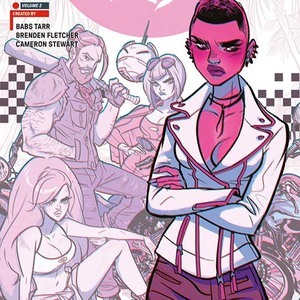 Motor Crush Vol. 2 Book Signing w/ Babs Tarr
June 9, 2018
Opening Reception / Jun 9, 6:00PM - 9:00PM


view pieces
share this event
Join us
Saturday June 9th (6 PM)
at Gallery Nucleus in welcoming back comic artist extraordinaire Babs Tarr! Babs will be signing the newly released volume 2 of her popular series
Motor Crush.
Nucleus will be selling volumes 1 & 2 in the shop, enamel pins, and an
exclusive art print release
by Babs. Some original art will be available for sale.
The acclaimed sci-fi action-adventure series MOTOR CRUSH is back for another heat. Two years have passed in Nova Honda, the racing capital of the world, and for Domino Swift everything has turned upside down. How does she fit in a world without Crush? (Collects issues 6 through 11).

This is an event fans don't want to miss!