Ellen Surrey: Mid-Century Modern Women in Visual Arts Exhibition & Book Launch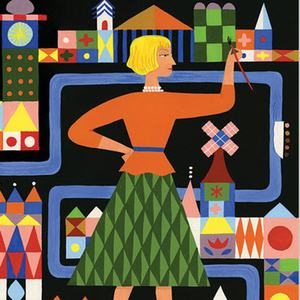 Ellen Surrey: Mid-Century Modern Women in Visual Arts Exhibition & Book Launch
July 9, 2016 - July 31, 2016
Opening Reception / Jul 9, 7:00PM - 10:00PM


view pieces
view photos
share this event
Simultaneously featured in our Main Gallery:

The Tower/Les Sommets
July 9, 2016 - July 31, 2016
Opening Reception / Jul 9, 7:00PM - 10:00PM


view pieces
view photos
share this event
Ellen Surrey Solo Exhibition dates open 7/9/2016 - 7/24/2016
Opening reception will feature:
Original painted pieces featured in the book.
Artist signing of Mid-Century Modern Women
Exclusive prints.
Ellen Surrey returns to Gallery Nucleus with her latest illustrated book Mid-Century Modern Women in Visual Arts written by Gloria Fowler.
Fowler and Surrey pays tribute to the ladies of the industry in art, fashion and design. From Ray Eames to Mary Blair to Coco Chanel, it
"is a celebration of some of the most creative and successful females of that era and their societal contributions." - Ammo