8
days left to order and receive your domestic shipments by Christmas!
1
days left to order and receive your international shipments by Christmas! Please email us for international shipping after December 10
Counting With Barefoot Critters by Teagan White Art Exhibition & Book Launch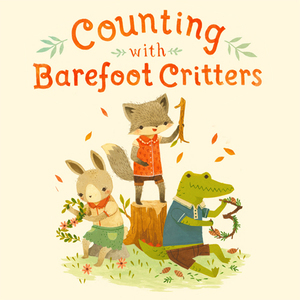 Counting With Barefoot Critters by Teagan White Art Exhibition & Book Launch
August 6, 2016 - August 28, 2016
Opening Reception / Aug 6, 7:00PM - 10:00PM


view pieces
view photos
share this event
Join us on August 6, 2016 from 7-10PM as we celebrate the launch of the talented Teagan White's new children's book,
Counting with Barefoot Critters
! Alongside the artist being in attendance and signing copies, we'll have a large selection of the gorgeous original hand-painted illustrations which accompany this adorable new tale of numbers, counting, and critters!
Exhibition Highlights
First retail location of Counting with Barefoot Critters
Original artwork from the book on display and for sale
Teagan White in attendance & signing
Free refreshments
And more to be announced...!
Teagan White is a freelance designer and illustrator from Chicago, now living and working in Minnesota, where she earned her BFA in Illustration from the Minneapolis College of Art & Design. Her work encompasses intricate drawings of flora and fauna, playful watercolors of anthropomorphic critters, illustrated typography, and everything in between. Teagan lives in the woods across the street from train tracks and a fox den, and spends her free time scolding neighborhood squirrels, exploring forests, rivers, lakes, and swamps, picking wildflowers, and collecting animal bones. This is her second book featuring the Barefoot Critters - Adventures with Barefoot Critters was her first picture book. The author lives in St Paul, Minnesota.
Event Exclusives
---
---
---
---
---