Zombie In Love 2 + 1 ( Scott C. Solo Exhibition)
Zombie In Love 2 + 1 ( Scott C. Solo Exhibition)
July 25, 2015 - August 9, 2015
Opening Reception / Jul 25, 7:00PM - 10:00PM


view pieces
view photos
share this event
Simultaneously featured in our Atrium Gallery:

Sam Bosma Fantasy Sports Signing & Solo Exhibition
July 25, 2015 - August 9, 2015
Opening Reception / Jul 25, 7:00PM - 10:00PM


view pieces
view photos
share this event
Join us as we continue the story of the lovable zombie, Mortimer and the love of his afterlife as they embark on their latest adventure, a baby!

Mortimer and Mildred are thrilled to be new parents. But having baby isn't what they expected. Sonny hardly ever cries. His teeth are coming in instead of falling out. And, worst of all, he's awake all day and sleeps through the night. Morimer and Mildred are worried sick. Will their precious baby boy ever behave like a good little monster?
Nucleus presents an exhibition of charming illustrations straight from Scott C's latest children's book, Zombie in Love 2 + 1, written by bestselling author Kelly DiPucchio.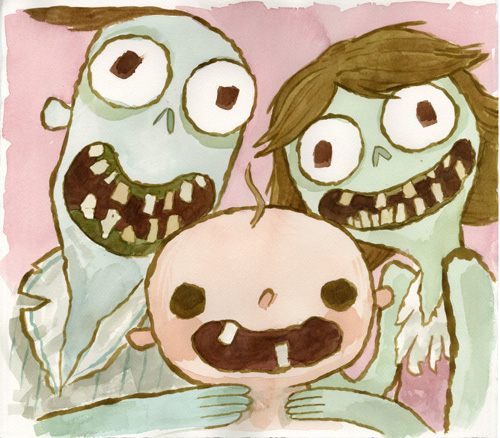 ZOMBIE BABY SHOWER RECEPTION DETAILS
Meet and greet artist Scott C and get your book signed!
Scott will be doing a book reading & drawing demo at 7 pm!
Dressing in zombie entire encouraged!
First 25 to purchase Scott's new book will receive a spooky goody bag!
Compete in baby shower games for a chance to win a personalized sketch by Scott!
Zombie baby shower inspired treats and refreshments!
Free admission (all-ages event)