A Capture Creatures Celebration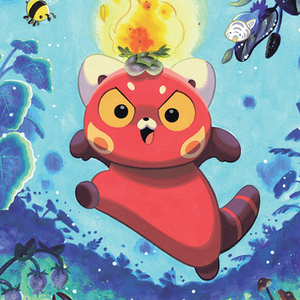 A Capture Creatures Celebration
December 13, 2014 - December 31, 2014
Opening Reception / Dec 13, 7:00PM - 10:00PM


view pieces
view photos
share this event
Simultaneously featured in our Atrium Gallery:

Nucleus Book Bazaar
December 13, 2014
Opening Reception / Dec 13, 7:00PM - 10:00PM


share this event
Becky Dreistadt and Frank Gibson are bringing their 151 custom monsters to the comic medium to take us further into the mysterious realm of
Capture Creatures
! Now an upcoming series published by Boom! Studios, follow the adventures of two teens as they uncover the secret of why these strange creatures appeared in their world.
To kick-off this exciting comic, Gallery Nucleus and Boom! Studios are proud to present
A Capture Creatures Celebration
! With original paintings by Becky, art by the members of the Capture Creatures comic team, and tribute pieces by a roster of other amazing artists, join us
Saturday December 13 at 7:00pm
as we celebrate the debut of this new series with a gallery filled wall-to-wall with art influenced by this creative duo's unique creations.
OPENING RECEPTION DETAILS
Capture Creatures creators Becky and Frank in attendance and signing
Nucleus Exclusive Capture Creatures #1 variant debut
New
Hourly raffle prizes held at 8, 9, and 10! (winning raffle #'s will be announced on Facebook)
Free refreshment and themed drinks
FEATURED ARTISTS

Alina Chau
Andrew Kolb
Ashley Davis
Becky Dreistadt
Coleman Engle
Drake Brodahl
Geneva Hodgson
Grace Kraft
Heather Franzen
Israel Sanchez
Jared Schorr
Joy Ang
JR Goldberg
Kari Casady
Kevin Jay Stanton
Lorena Alvarez Gomez
Luke Weber
Madeleine Flores
Maggie Rudy
Makiko Takamichi
Maryanna Hoggatt
Michelle Romo
Mike Yamada
Missy Pena
Nicole Gustafsson
Phil McAndrew
Teagan White
Tiffany Ford
Zac Gorman
Zach Marcus
...and more to be announced!
Buy the original Capture Creatures Book
http://www.gallerynucleus.com/detail/15809

Official Captures Creatures Website

http://www.capturecreatures.com
In collaboration with...
Event Exclusives
---
---
---
---
---
---
---
---