Hip Check!: Fantasy Roller Derby by Vera Brosgol & Helen Chen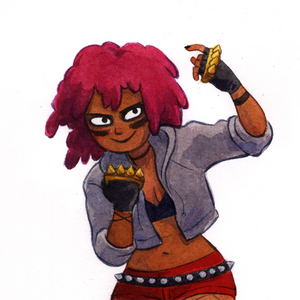 Hip Check!: Fantasy Roller Derby by Vera Brosgol & Helen Chen
October 18, 2014 - November 2, 2014
Opening Reception / Oct 18, 7:00PM - 10:00PM


view pieces
view photos
share this event
Simultaneously featured in our Main Gallery:

The Boxtrolls Artist Panel/Signing/Exhibition
October 18, 2014 - November 2, 2014
Opening Reception / Oct 18, 2:00PM - 5:00PM


view photos
share this event
Gallery Nucleus is proud to present
Hip Check!: Fantasy Roller Derby by Vera Brosgol & Helen Chen,
an exhibition highlighting the exciting, death-defying, and bone-crushing world of Roller Derby! Featuring the talents of Eisner award-winner
Vera Brosgol
and art director/visual developer
Helen Chen
, join us opening night Saturday, October 18 as each artist unveils their own fantasy roller derby dream team!
Opening Reception Highlights
Artists in attendance
Exclusive new print release by Helen Chen
Free refreshments


sponsored by...