Hidden People by Graham Annable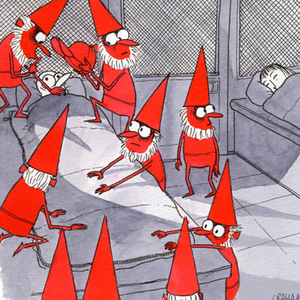 Hidden People by Graham Annable
October 18, 2014 - November 2, 2014
Opening Reception / Oct 18, 7:00PM - 10:00PM


view pieces
view photos
share this event
Join us opening night Saturday, October 18 as
Graham Annable
(
Grickle
creator & co-director of
The Boxtrolls)
showcases new work based on the eerie narratives of "The Hidden People."
Opening Reception Highlights
50+ new works by Graham based on the stories of "The Hidden People"
Exclusive publication/US release of the mini comic "Hidden" (signed & limited to 100 copies) available with purchase of a piece from the "Hidden People" exhibition
Free refreshments
...and more to be announced!
Cover of "Hidden" mini comic
Watch "The Hidden People" below:
See more of Graham's work on his YouTube channel
here
.