Heroes In A Half Shell: A TMNT Art Tribute Exhibition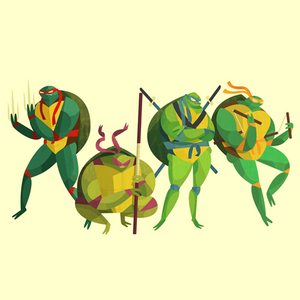 Heroes In A Half Shell: A TMNT Art Tribute Exhibition
July 12, 2014 - August 3, 2014
Opening Reception / Jul 12, 7:00PM - 10:00PM


view pieces
view photos
share this event
Gallery Nucleus and

Nickelodeon Studios

are proud to present an official art exhibition in honor of the Teenage Mutant Ninja Turtles' 30th Anniversary.





Join us as over 30 artists pay tribute to the Teenage Mutant Ninja Turtles with art from their numerous incarnations alongside work from some of our gallery favorites, who'll be bringing their own unique take to the series.



Production Art & TMNT Memorabilia On Display
See character, background, storyboards, and other development art by the creatives behind the new TMNT series. Also on display will be an assortment of TMNT memorabilia.

Join Us For Opening Night
TMNT costumes and attire encouraged!
Open to Public, All Ages Welcome, No RSVP needed.

Admission
$5 or FREE when you come in costume or purchase any TMNT items from shop (instore purchases only)

Opening Highlights Include

Meet artists who have worked on the TV show, and comics
Come meet and get your photo taken with the Teenage Mutant Ninja Turtles in a custom designed TMNT lair
First 30 people in the door will receive a FREE TMNT Toy
First 500 people in the door will receive a FREE TMNT eye bandana
Free refreshments and TMNT mocktails available.
Hourly raffles giveaways at 8pm, 9pm, 10pm
Classic TMNT arcade cabinet on display and playable
Original tribute artwork by artists from the TV show and comics will be on display and for sale
Artist Signing
7:30pm -8:30pm

Ciro Nieli
Executive Producer Nickelodeon Teenage Mutant Ninja Turtles

Irineo Maramba
Design Supervisor Nickelodeon Teenage Mutant Ninja Turtles

Dan Duncan
TMNT Comic Book Artist IDW Publishing


Exhibiting Artists
Adam Lucas
Anthony Wu
Babs Tarr
Brianne Drouhard
Ciro
Corey lewis
Crowded Teeth
Dan Duncan
Dan Matutina
Felipe Smith
felt mistress (Louise Evans)
Helen Chen
Ian Abando
Irineo Maramba
Jack Rossi
Jackson Sze
Jake Wyatt
James Harvey
Jed Henry
Jeff Victor
Jeffry Mazon
Jermaine Jose
Jessica Zammit
Jim Mahfood
JJ Conway
Jose Garibaldi
Kyle Fewell
Leslie Hung
Liam brazier
Marco Nelor
Maxime Mary
Mayumi Nose
Micah Gunnell
Michael Chang
Miho Tomimasu
Mike Bear
Miki Brewster
Mindy Lee
Nadia Vurbenova Mouri
Natalie Hall
Nicole Gustafsson
Owen Davey
Patrick Awa
Richie Pope
Rie Koga
Rustam Hasanov
Ryan Lang
Sachin Teng
Scott C

...more to be announced!






© 2014 Viacom International Inc. All rights reserved. Nickelodeon, Teenage Mutant Ninja Turtles and all related titles, logos and characters are trademarks of Viacom International Inc. Teenage Mutant Ninja Turtles created by Kevin Eastman and Peter Laird.