Terra: Artwork Inspired by Nature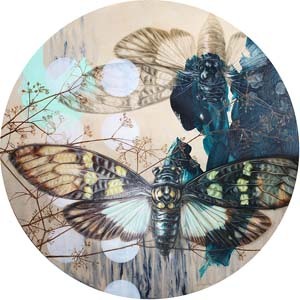 Terra: Artwork Inspired by Nature
March 29, 2014 - April 13, 2014
Opening Reception / Mar 29, 7:00PM - 10:00PM


view pieces
share this event
Simultaneously featured in our Atrium Gallery:
Sparky! Solo Exhibition & Book Signing w/ Chris Appelhans
March 29, 2014 - April 13, 2014
Opening Reception / Mar 29, 7:00PM - 10:00PM


view pieces
share this event
From the forces that gift us with sunshine and curse us with storms to the countless creatures that roam sky, earth and sea, from the plants that provide us with breath and life to even the tiniest of organisms yet to be discovered, we are surrounded by Mother Nature at every moment. Nucleus presents an exciting group of diversely skilled artists that have come together to create a compelling collection of work that celebrates the harmonious existence of all things that live, breathe, and even photosynthesize. This visually stunning exhibition features a variety of media from a global roster of inspiring talent and urges us to connect to the beauty, power and balance within the natural world.

Exhibiting Artists:

Alex Louisa
APAK
Brooks Shane Salzwedel
Christina Mrozik
Corinne Reid
Edward Kinsella
Erica Williams
Frank Gonzales
Hannah Yata
Jan Huling
Joshua Harker
Junyi Wu
Karina Eibatova
Katherine Brannock
Kikyz1313
Laura Bifano
Linda Kim
Mab Graves
Michael Brown
Nicole Gustafsson
Nanami Cowdroy
Natasha Durley
Otto Björnik
Richard Kirk
Sam Yong
Sean Avery
Stasia Burrington
Teagan White
Vikki Chu
Yellena
Zoe Poster





Pothead by Jan Huling




From the Sky to the Sea, Collected by Alex Louisa




Mazzo di Fiori by Joshua Harker



*top artwork Cicada Eclipse by Alex Louisa and Black Billed Cuckoo by Frank Gonzales