If Dogs Run Free by Scott C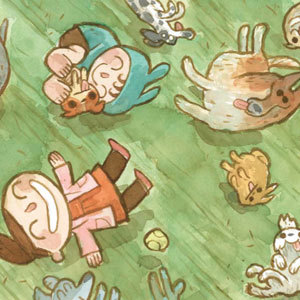 If Dogs Run Free by Scott C
August 24, 2013 - September 15, 2013
Opening Reception / Aug 24, 7:00PM - 10:00PM


view pieces
view photos
share this event
If dogs run free, why not we?
In this endearing and spirited interpretation of Bob Dylan's 1970 song, "If Dogs Run Free," artist Scott C brings Dylan's lyrics to vibrant life in celebration of creativity and freedom.
For the release of this new children's book, Nucleus unleashes a collection of over 70 watercolors by the artist including artwork from the original pages of the published title, plus a pack of pup portraits that will surely make you smile!
Meet Scott C as he greets fans and signs copies of the new book. Bring your furry friends for some free doggy treats, contests, and doggone good fun!
The best is always yet to come
That's what they explain to me

Just do your thing, you'll be king

If dogs run free

OPENING NIGHT HIGHLIGHTS
6pm-7pm: Read and color with Scott C!
8pm: Best Trick Contest! Impress us with your dog's best trick for an awesome prize.
8pm: Best Obedience Contest! Is your dog a good listener? Then you might win a prize!
9pm: Present your pooch in his or her best costume for a chance to win a special prize!
First 50 dogs in attendance will receive a special gift bag courtesy of My Pet Garden!
Dog adoptions through What's Up Dog! L.A.
Complimentary refreshment bars for both humans and dogs
Hourly raffle prizes
Play area for four-legged friends!
Dog-themed photo op
More About the Artist

Scott Campbell (Scott C) is a maker of paintings, illustrations, comics, kid's books and video games. He studied illustration at the Academy of Art in San Francisco, focusing on comic and children's book illustration. Soon after graduating, he began at Lucas Learning as concept artist on children's video games. Four years later, he joined Double Fine Productions as Art Director on such games as the critically acclaimed Psychonauts and Brutal Legend. Alongside this career in games, he has published numerous comics and created paintings that have appeared in galleries and publications around the world. Some of his most notable projects include the Great Showdowns series, Double Fine Action Comics and the children's books Zombie In Love and East Dragon, West Dragon.





Searching for your new best friend? What's Up Dog! L.A. is a 100% volunteer-run nonprofit dog rescue whose mission is to place destitute animals from high kill shelters with loving Forever Families. Learn more

Event Exclusives
---
---
---
---