Optical Allusions by Bill Carman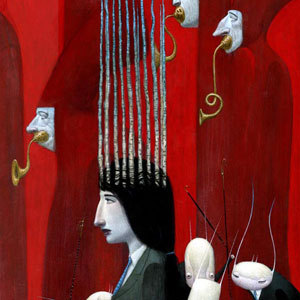 Optical Allusions by Bill Carman
May 12, 2012 - June 3, 2012
Opening Reception / May 12, 7:00PM - 10:00PM


view pieces
share this event
Simultaneously featured in our Atrium Gallery:

The Vanity of Empire by Jaime Zollars
May 12, 2012 - June 3, 2012
Opening Reception / May 12, 7:00PM - 10:00PM


view pieces
share this event
Perhaps you've taken a wrong turn somewhere along the way, but now you are most certainly in unfamiliar territory. You quickly glance around to discover you are surrounded by spindly albino trees rooted starkly against a dark background of moving silhouettes. The air has turned a cool mist and you can see your breath.

Fluttering above your head, you spy birds with striped beaks five times the length of their tiny crimson bodies. A cackling of mad laughter echoes from the distance sending a chill up your spine. There is a cacophony of strange horns and bells accompanied by a marching of heavy footsteps seemingly heading in your direction. You swiftly make an about face to find a group of odd creatures wearing suits peering down at you through monoculars.
Welcome to the peculiar wonderland of Bill Carman, a fascinating world of characters on display and inclined to lure you into their mischievous agendas.
About the Artist:

Bill Carman's award-winning work
straddles the line between narrative and surreal. A trained artist having earned an MFA in fine arts from Brigham Young University, Carman has since achieved notable success with his imagery as well as garnering an impressive list of clients including Macmillan Publishing, Random House, and LucasArts. His achievements include the children's book,
What's That Noise?
In addition, he also currently teaches art at Boise State University.
Albino Tree
| Acrylic on panel | 10" x 8"
Tastes a Little Bitter
| Acrylic on paper | 14" x 9"
Time to Break in the New Scope
| Acrylic on panel | 14" x 11"

Narduel: What Are the Odds?
| Acrylic on copper | 5" x 7"