Carved Complexities: Works Cut from Paper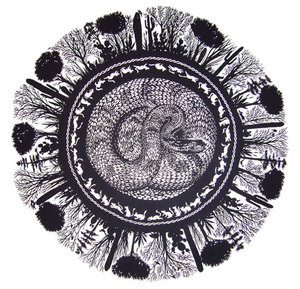 Carved Complexities: Works Cut from Paper
February 4, 2012 - February 26, 2012
Opening Reception / Feb 4, 7:00PM - 10:00PM


view pieces
view photos
share this event
Simultaneously featured in our Main Gallery:

Line Weight II: An Exploration of Line Work
February 4, 2012 - February 26, 2012
Opening Reception / Feb 4, 7:00PM - 10:00PM


view pieces
share this event
For many, crafting with paper and scissors might be considered one of the earliest introductions to art. While some have ventured off to experiement other methods of artistry, a loyal few have indulged in their fascination with paper cut to produce works simple in context yet startlingly enigmatic in precision. Gallery Nucleus invites you to revisit the fundamental medium of paper and blade with "Carved Complexities," an exhibition featuring a select group of renowned paper cut artists who elevate the form of paper cutting to new heights of detail and imagination.
Exhibiting Artists Include:
Beatrice Coron
Charles Clary
Haruka

Hunter Stabler
Julene Harrison
Kevin Jay Stanton
Lucrezia Bieler
Matthew Shlian

Beatrice Coron featured on TED Talks:
Above images:
Rattle Race
by Lucrezia Bieler,
Green Summer
by Beatrice Coron