Justin Sweet Solo Exhibition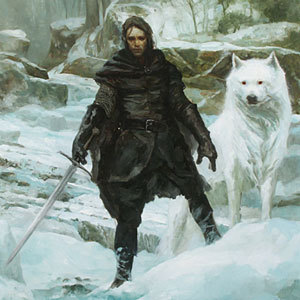 Justin Sweet Solo Exhibition
November 5, 2011 - November 28, 2011
Opening Reception / Nov 5, 7:00PM - 10:00PM


view pieces
view photos
share this event
Nucleus is proud to present acclaimed fantasy artist, Justin Sweet. Perhaps best known for his concept work, the award-winning artist has worked with George Martin on his acclaimed series,
Game of Thrones
, as well as many other projects including the
Narnia
films,
Green Lantern
, and
Magic:The Gathering
.
Sweet's exhibition will showcase a number of his latest works including large-scale oils, expressive watercolors, and never-before-seen concept art. His oil paintings depict epic fantasy narratives, often capturing climactic moments in which characters from the Dark Ages face or overcome great adversity. These works possess an atmospheric weight, achieved in part by Sweet's bold brushstrokes and rich use of color. It is these same confident brushstrokes that can be found in the gestural swiftness of Sweet's watercolor paintings. The watercolors are fleeting visions of great warriors and beasts.
www.justinsweet.com
Kull of Atlantis
by Justin Sweet