28
days left to order and receive your domestic shipments by Christmas!
21
days left to order and receive your international shipments by Christmas! Please email us for international shipping after December 10
Sweet Streets II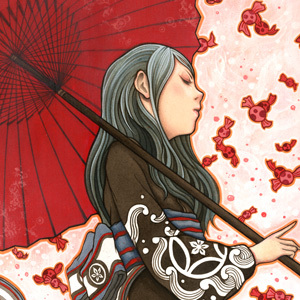 Sweet Streets II
September 11, 2010 - October 4, 2010
Opening Reception / Sep 11, 7:00PM - 11:00PM


view pieces
view photos
press release
share this event
Gallery Nucleus &
Caro
are excited to reprise the highly successful SWEET STREETS exhibit sponsored by
Hi-Fructose
,
Tokyofashion.com
and
SOSO Happy
! Last year's colorful exhibition inspired by Japanese streets attracted hundreds of art and fashion enthusiasts. This year, SWEET STREETS 2 aims to top the last with internationally known artists, photographers, and fashion designers.
Take a look at last years event:
Video By Akemi Shimbashi/Letsugo
Following the opening of SWEET STREETS 2, Caro and event production company Bubblepunch are proud to welcome
6%DOKIDOKI
! Join us on September 12th, for a special
6%DOKIDOKI Fan Event
featuring kawaii Harajuku fashion advice from founder Sebastian Masuda and shopgirls Yuka and Vani!
OPENING NIGHT FEATURES
:
Free Admission!
Dj sets by Tune in Tokyo and 6%DOKIDOKI's Sebastian Masuda!
Pop-up shops by SOSO Happy, 6%DOKIDOKI & Chubby Bunny Accessories!
6%DOKIDOKI fashion show produced by Bubblepunch!
Live drawing session with 6%DOKIDOKI models!
Live artists drawing!
Japanese snacks and refreshments served!
Food trucks serving up the savoury and sweet!