Sweet Streets II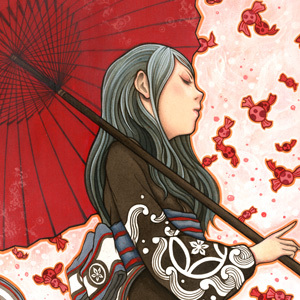 Sweet Streets II
September 11, 2010 - October 4, 2010
Opening Reception / Sep 11, 7:00PM - 11:00PM


view pieces
view photos
press release
share this event
Gallery Nucleus &
Caro
are excited to reprise the highly successful SWEET STREETS exhibit sponsored by
Hi-Fructose
,
Tokyofashion.com
and
SOSO Happy
! Last year's colorful exhibition inspired by Japanese streets attracted hundreds of art and fashion enthusiasts. This year, SWEET STREETS 2 aims to top the last with internationally known artists, photographers, and fashion designers.
Take a look at last years event:
Video By Akemi Shimbashi/Letsugo
Following the opening of SWEET STREETS 2, Caro and event production company Bubblepunch are proud to welcome
6%DOKIDOKI
! Join us on September 12th, for a special
6%DOKIDOKI Fan Event
featuring kawaii Harajuku fashion advice from founder Sebastian Masuda and shopgirls Yuka and Vani!
OPENING NIGHT FEATURES
:
Free Admission!
Dj sets by Tune in Tokyo and 6%DOKIDOKI's Sebastian Masuda!
Pop-up shops by SOSO Happy, 6%DOKIDOKI & Chubby Bunny Accessories!
6%DOKIDOKI fashion show produced by Bubblepunch!
Live drawing session with 6%DOKIDOKI models!
Live artists drawing!
Japanese snacks and refreshments served!
Food trucks serving up the savoury and sweet!