29
days left to order and receive your domestic shipments by Christmas!
22
days left to order and receive your international shipments by Christmas! Please email us for international shipping after December 10
La Femme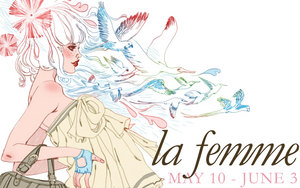 La Femme
May 10, 2008 - June 3, 2008
Opening Reception / May 10, 7:00PM - 11:00PM


view pieces
view photos
press release
share this event

Stina Persson
Brandi Milne


Junko Mizuno
Just in time for Mother's Day, Gallery Nucleus is reprising the first Girl Show from 2005! La Femme is a visual celebration of mothers, daughters, and sisters everywhere-featuring a diverse and talented group of exclusively female illustrators picked from all over the world.
The artworks pay tribute to the complexities and joys of motherhood in addition to reflecting life from a woman's perspective. Pieces range from the serious to cute, and the provocative to chic-covering the entire spectrum of what it is to be a woman. Through its exciting roster of artists, La Femme hopes to showcase and celebrate women in art.
Artists include:
Adolie Day
Aline Yamada
Amy Sol
Annika Wester
Brandi Milne
Catherine Campbell
Clio Chiang
Elizabeth Ito
Emma Goo
Hannah Stouffer
Julie Nishioka
Julie West
Junko Mizuno
Kendra Binney
Kukula
Lulu *Plasticpirate
Marguerite Sauvage
Mari Inukai
Maria Vittoria Benatti
Miss Mindy
Stina Persson
Vera Brosgol
Yellena
Admission is free
Free flowers to all mothers on opening night

Free refreshments
This is an all-ages exhibition

Event Exclusives
---
---
---
---
---
---
---
---