City of Secrets Signing w/ Victoria Ying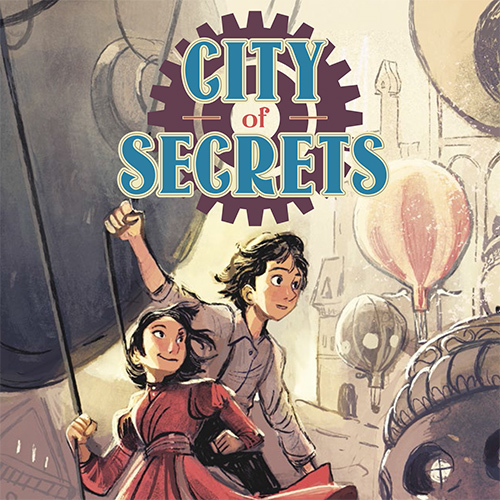 August 2, 2020
Aug 2,
1:00PM - 2:00PM
Author and illustrator Victoria Ying is celebrating her debut graphic novel City of Secrets. Originally written as a middle grade novel, join us in a very informative virtual panel / Q & A as Victoria shares her the books origins, her creative process, workflow, and insight about her as a creator.
MAKING OF TUTORIAL / MEET & GREET
On August 2 at 1:00 PM, Victoria will be hosting a live Q & A for fans via zoom.
Customers that purchase a copy of her new book City of Secrets from our website, from now till end of day August 1st, will be emailed access to the zoom session.
All books purchased will be signed by Victoria and shipped out mid August.
ABOUT VICTORIA YING
Victoria Ying is an author and artist living in Los Angeles. She started her career in the arts by falling in love with comic books, this eventually turned into a career working in animation and graphic novels. She loves Japanese Curry, putting things in her shopping cart online and taking them out again and hanging out with her dopey dog. Her film credits include Tangled, Wreck it Ralph, Frozen, Paperman, Big Hero 6, and Moana. Her upcoming projects include illustrating the DC Comic book, "Diana Princess of the Amazons" and her authored graphic novel "City of Secrets" to be published in 2020.
ABOUT CITY OF SECRETS

Can one boy keep a secret–and save a whole city? An action-packed read for middle-grade fantasy and graphic novel fans!
Ever Barnes is a shy orphan who lives in a puzzle-box building (think an architectural Transformer) that is also a multi level switchboard center, the communications hub of his city. He's the last of a family that's guarded a precious safe–contents unknown–for generations. All Ever knows is that what's in that safe protects the city and that his father was killed because he wouldn't give up the secret of the safe.
Ever is resigned to living on his own in the swtichboard building, where he knows every nook and cranny, and all the cranks and levers that operate the complicated complex. Some of the nicer young women who work there give him food on the sly. He's got his job: stay out of sight and protect the safe hidden deep in the maze of the building. Ever is the only one who knows about it. Or is he?
Ever's lonely existence is upended by when Hannah, the daughter of the building's owner, shows up and spots the orphan in hiding. Hannah is determined to befriend Ever. His avoidance and her pursuit set off an unexpected series of events. Two things quickly become very clear: someone else knows Ever's secret and wants in on it. And having a friend is a very good thing when a whole whole evil goon squad is after you!
No event pieces are currently available to display.