Zombies in Love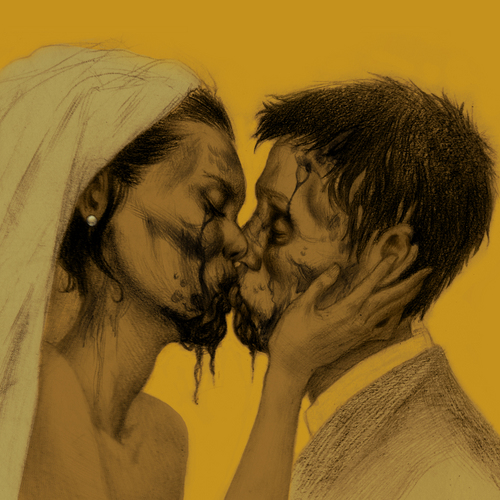 February 6, 2010 - February 22, 2010
Feb 6,
6:00PM - 10:00PM
**Exhibit concludes Monday, February 22 at 3pm**

Discover the true meaning of
undying love
...
Gathering recognized names in the field of zombie culture and other zombie enthusiasts contributing paintings, sculptures, and live performance paying homage to the reanimated dead and true love that persists beyond the grave. Free Admission.
FEATURED ARTISTS (artists in attendance = * )
Barth
*Ben Zhu
J. Shea
Martin Astles
---

ZOMBIE WALK
We are looking for people to join us in a zombie walk on February 6, the night of the opening reception. We will meet on the south east corner of Main St. and Atlantic St. Come in tattered clothing, darkened eye sockets and bloodied. We meet at 6:20 to go over the rules and the walk will begin at 6:30 pm. There will be a lead zombie for everyone to follow till the front entrance of Nucleus at which point will signal the opening of the show.
Details HERE:
http://gallerynucleus.com/pop/732
View this Zombie Walk online to get a better idea:
---
DETAILS/SCHEDULE:
6:20 pm
- Join us at at Atlantic and Main St. in a Pre-Valentine Zombie Walk to signal the opening of the exhibition. Details and rules
HERE
.
7:00 pm
- Zombie walkers arrive and exhibition starts. (free entrance gift while supplies last)
7:30 pm
- Eat My Taco will be selling tacos and the
Zombie Shooting Gallery
will begin in the parking lot behind Nucleus. Rent gas powered airsoft guns to shoot at real live zombie actors.
8:00 pm
- first raffle giveaway. Live Zombie Drawing starts. Artist CHRIS LANE will begin signing his book
"Zombies: A Record of the Year of Infection"
9:00 pm
- second raffle giveaway
9:30 pm
- Surprise live in gallery performance by "Teen Groov"
9:45 pm
- Best Zombie contestants sign in for competition (show us your best zombie walk/costume)
10:00 pm
- Final prize giveaway for "Best Zombie Competition"
Zombie Special Effects Make-Up for Nucleus team and Bride (actress Janet Chu) provided by artist Christine Hayashi

Tunes provided by DJ Ronicus

FREE Zombie Drawing session with Live zombie model upstairs starting 8pm provided by Dr. Skechy LA
FREE refreshments provided
Some artwork may be paid for in installments. Please for details.