Harajuku Kawaii Experience: 6%DokiDoki World Tour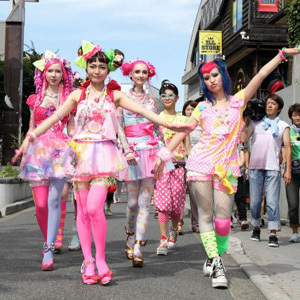 Harajuku Kawaii Experience: 6%DokiDoki World Tour
September 12, 2010
Opening Reception / Sep 12, 1:00PM - 3:00PM


share this event
This summer, SWEET STREETS curator Caro and event production team Bubblepunch are proud to welcome 6%DOKIDOKI! Established in Harajuku, Japan in 1995 by designer Sebastian Masuda, 6%DOKIDOKI shares its imagination and creativity with a line of accessories and ready to wear items that epitomize Japanese street culture.

On September 12th at Gallery Nucleus, 6%DOKIDOKI brings a unique fan event to Los Angeles in celebration of the brands 15th anniversary and SWEET STREETS 2. Come to this exclusive fan event,
Harajuku Kawaii Experienc
e, for a chance to meet and discuss Japanese kawaii fashion with 6%DOKIDOKI founder Sebastian Masuda and shopgirls Yuka and Vani! Lucky attendees will receive 6%DOKIDOKI gifts and the opportunity to have their photo taken with 6%DOKIDOKI shop girls. A special photo gallery of these photos will be posted on TokyoFashion.com, a sponsor of SWEET STREETS 2.

For more information on this event and the
Harajuku Kawaii Experienc
e World Tour, please
see
HERE
.

Don't forget to join us the evening prior (September 11, 7-11PM) at the opening reception of SWEET STREETS 2 for a 6%DOKIDOKI fashion show, live drawing session of 6%DOKIDOKI shop girls, and DJ set by 6%DOKIDOKI's very own Sebastian Masuda!