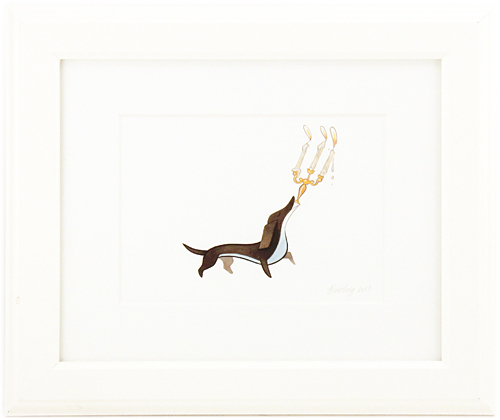 #139 Dashing Hound
Share this Item
Art Height:
5.0" (12.7 cm)
Art Width:
7.0" (17.78 cm)
Frame Height:
10.0" (25.4 cm)
Frame Width:
12.0" (30.48 cm)
Dashing Hound is the evolution of Carcimine. Carrying on its predecessors smoking habit, it uses the shed antlers of Antlerabra to create a greater fire projecting apparatus. Dashing Hounds are proud creatures, but when their fire is extinguished they will quickly scamper away. They often hide in trees for days until they are sure that their opponent has left.
More Views
Options
Learn more about Becky Dreistadt's year-long project showcasing 151 creatures hand-painted by the artist, accompanied with imaginative stories by her partner Frank Gibson culminating in a fantastically fun exhibit and book release.
More details
I want this as a print!
We can't promise prints for every piece, but if the interest is high, it may be an option.