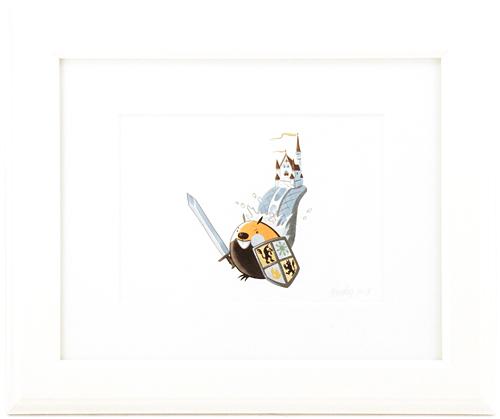 #136 Scheaver
Share this Item
Art Height:
5.0" (12.7 cm)
Art Width:
7.0" (17.78 cm)
Frame Height:
10.0" (25.4 cm)
Frame Width:
12.0" (30.48 cm)
An intelligent and social creature, Scheaver can communicate with many creatures outside its species. Chief amongst these creatures is Puug, who often find themselves settling in dwellings built upon the creature. Their habitat often crosses over with the violent Kirugi. To counteract Kirugi's superior fighting ability, Scheavers work in packs to gnaw off their bladed tails, which they use to arm themselves. Its shield is painted by Paletile, often emblazoned with the silhouette of two mysterious creatures.
More Views
Options
Learn more about Becky Dreistadt's year-long project showcasing 151 creatures hand-painted by the artist, accompanied with imaginative stories by her partner Frank Gibson culminating in a fantastically fun exhibit and book release.
More details
I want this as a print!
We can't promise prints for every piece, but if the interest is high, it may be an option.