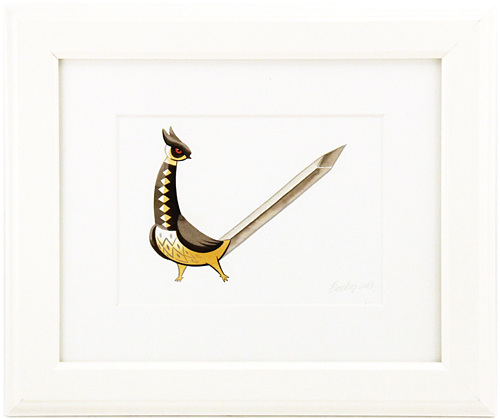 #135 Kirugi
Share this Item
Art Height:
5.0" (12.7 cm)
Art Width:
7.0" (17.78 cm)
Frame Height:
10.0" (25.4 cm)
Frame Width:
12.0" (30.48 cm)
Kirugi are defined by their showy appearance. Although visually striking, the creatures are rarely sighted, concealing themselves in the underbrush they call home. Violently territorial and solitary, Kirugi carve borders into the ground around its nesting area using its bladed tail. Kirugi's sword size is dependent on use, growing stronger with each successful battle. If unsuccessful in battle, the sword is often shattered by the opposing Kirugi, unless scavenged by other creatures of the forest.
More Views
Options
Learn more about Becky Dreistadt's year-long project showcasing 151 creatures hand-painted by the artist, accompanied with imaginative stories by her partner Frank Gibson culminating in a fantastically fun exhibit and book release.
More details
I want this as a print!
We can't promise prints for every piece, but if the interest is high, it may be an option.