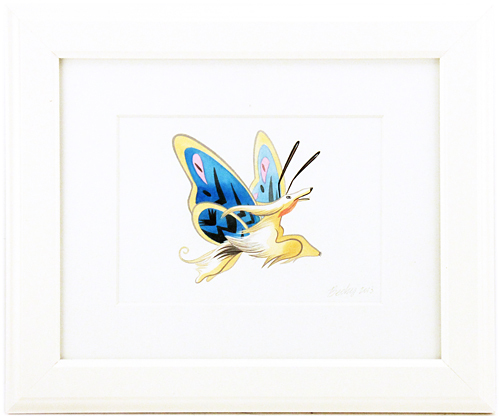 #128 Skotterfly
Share this Item
Art Height:
5.0" (12.7 cm)
Art Width:
7.0" (17.78 cm)
Frame Height:
10.0" (25.4 cm)
Frame Width:
12.0" (30.48 cm)
One of the evolutionary end-points of Skotterpill, Skotterfly emerges from its cocoon with a striking wingspan. Preferring to fly in packs, its migration patterns are seemingly random. However, these aerial paths are designed to quickly escape from the encroaching cold weather that hinders their flying ability. Skotterfly's powerful wings allow it to undertake lengthy flights, making it one of the few flying types that can cross oceans. A most dignified creature in the wild, it resists domestication and is generally considered disobedient. Due to consumption of questionable foliage, its coat is poisonous to those that attempt to bite it. This ability is repressed during play with others of its kind.
More Views
Options
Learn more about Becky Dreistadt's year-long project showcasing 151 creatures hand-painted by the artist, accompanied with imaginative stories by her partner Frank Gibson culminating in a fantastically fun exhibit and book release.
More details
I want this as a print!
We can't promise prints for every piece, but if the interest is high, it may be an option.