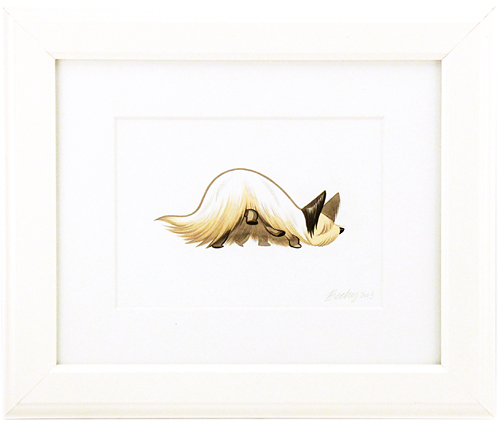 #126 Skotterpill
Share this Item
Art Height:
5.0" (12.7 cm)
Art Width:
7.0" (17.78 cm)
Frame Height:
10.0" (25.4 cm)
Frame Width:
12.0" (30.48 cm)
Skotterpill is the infant state where a number of different creatures begin their life journeys. Its thick, wiry fur is weather resistant, as well as an effective deterrent to biting attacks from larger creatures. Known for its dogged determination, Skotterpill can dedicate itself to a singular task for months at a time, especially travel. Skotterpill spends most of its life attempting to find surroundings conducive to evolution.
More Views
Options
Learn more about Becky Dreistadt's year-long project showcasing 151 creatures hand-painted by the artist, accompanied with imaginative stories by her partner Frank Gibson culminating in a fantastically fun exhibit and book release.
More details
I want this as a print!
We can't promise prints for every piece, but if the interest is high, it may be an option.