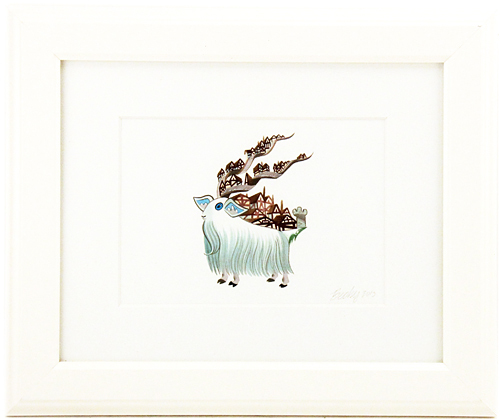 #120 Markipolitan
Share this Item
Art Height:
5.0" (12.7 cm)
Art Width:
7.0" (17.78 cm)
Frame Height:
10.0" (25.4 cm)
Frame Width:
12.0" (30.48 cm)
Markipolitan's evolution is triggered by overpopulation. During evolution the villages move around frequently, attempting to stake out new territory on the growing landmass. The most powerful Puugs and Craus occupy the barracks on its tail, using it as a look-out point to sight incoming aggressors.
More Views
Options
Learn more about Becky Dreistadt's year-long project showcasing 151 creatures hand-painted by the artist, accompanied with imaginative stories by her partner Frank Gibson culminating in a fantastically fun exhibit and book release.
More details
I want this as a print!
We can't promise prints for every piece, but if the interest is high, it may be an option.