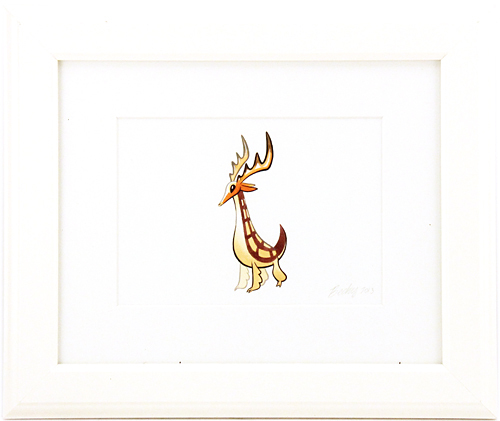 #114 Staant
Share this Item
Art Height:
5.0" (12.7 cm)
Art Width:
7.0" (17.78 cm)
Frame Height:
10.0" (25.4 cm)
Frame Width:
12.0" (30.48 cm)
Physically strong Puugs eventually diverge from their colony and evolve into Staant. Staants make a conscious decision to sacrifice their building ability for superior defensive qualities. Still small in stature, they team with countless other Staants to protect their colonies from aggressors. Staant's head-pincers grow quickly, often snapping them off themselves to use as weapons. When still attached to their heads, these pincers deliver powerful stings.
More Views
Options
Learn more about Becky Dreistadt's year-long project showcasing 151 creatures hand-painted by the artist, accompanied with imaginative stories by her partner Frank Gibson culminating in a fantastically fun exhibit and book release.
More details
I want this as a print!
We can't promise prints for every piece, but if the interest is high, it may be an option.