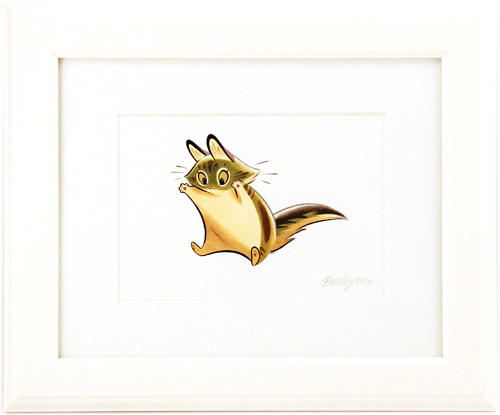 #060 Fekite
Share this Item
Art Height:
5.0" (12.7 cm)
Art Width:
7.0" (17.78 cm)
Frame Height:
10.0" (25.4 cm)
Frame Width:
12.0" (30.48 cm)
Fekite is a tree-dwelling creature that looks more at home on the ground. Although it does not have wings, it has the ability to shift its weight around its entire body, flattening itself for perfect aerodynamic gliding. When airborne, it can use its tail as a rudder to change direction. Fekite's diet consists mostly of pinecones, which has created an antagonistic relationship with Pinegolin.
More Views
Options
Learn more about Becky Dreistadt's year-long project showcasing 151 creatures hand-painted by the artist, accompanied with imaginative stories by her partner Frank Gibson culminating in a fantastically fun exhibit and book release.
More details
I want this as a print!
We can't promise prints for every piece, but if the interest is high, it may be an option.