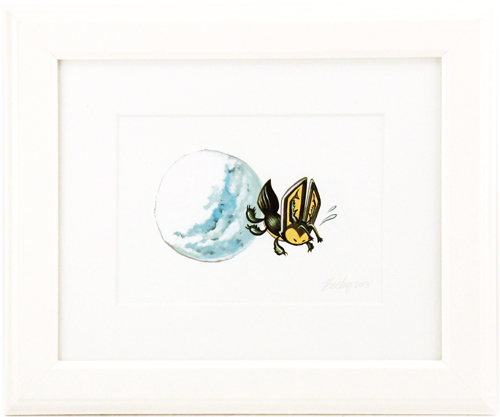 #056 Rollecc
Share this Item
Art Height:
5.0" (12.7 cm)
Art Width:
7.0" (17.78 cm)
Frame Height:
10.0" (25.4 cm)
Frame Width:
12.0" (30.48 cm)
Rollecc, an insect type, is drawn to colder environments. The creature gathers dense ice to use as projectiles and to build crude dwellings. These houses are shared with a number of other snow creatures, especially its evolutionary partner Frozecc. Rollecc has been known to accidentally roll up sleeping Powches and Pinipups, but they don't seem to mind.
More Views
Options
Learn more about Becky Dreistadt's year-long project showcasing 151 creatures hand-painted by the artist, accompanied with imaginative stories by her partner Frank Gibson culminating in a fantastically fun exhibit and book release.
More details
I want this as a print!
We can't promise prints for every piece, but if the interest is high, it may be an option.