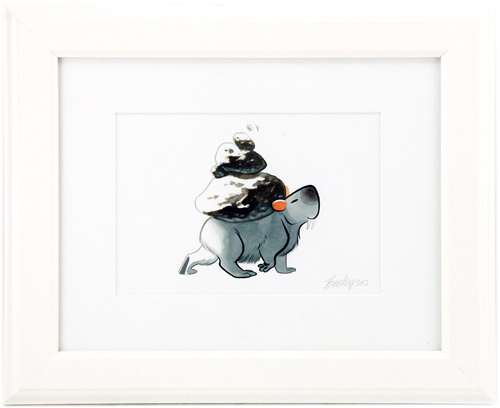 #045 Stackabara
Share this Item
Art Height:
5.0" (12.7 cm)
Art Width:
7.0" (17.78 cm)
Frame Height:
10.0" (25.4 cm)
Frame Width:
12.0" (30.48 cm)
When a Craxrax rises high enough in its pack hierarchy, it is permitted to feast upon rare earth minerals, beginning its evolution. Digging deep down into the earth, Stackabara mines minerals that provide nourishment to the next generation of Stackabaras. Their saber teeth are primarily used to pry gems free from rocks, but when required can also be used as weapons.
More Views
Options
Learn more about Becky Dreistadt's year-long project showcasing 151 creatures hand-painted by the artist, accompanied with imaginative stories by her partner Frank Gibson culminating in a fantastically fun exhibit and book release.
More details
I want this as a print!
We can't promise prints for every piece, but if the interest is high, it may be an option.