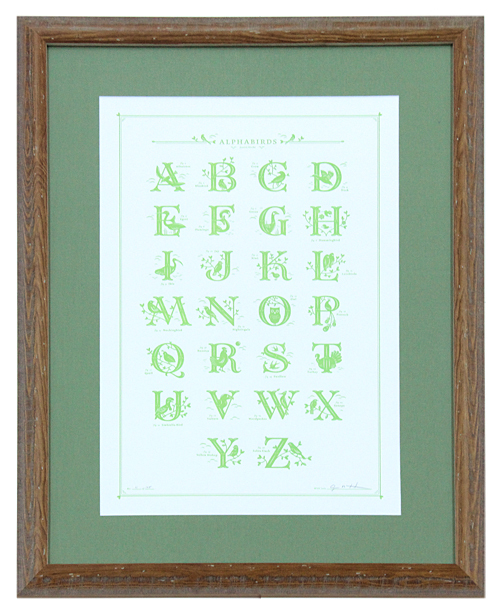 Alphabirds (Edition of 185)
Share this Item
Art Height:
23.0" (58.42 cm)
Art Width:
15.5" (39.37 cm)
Frame Height:
32.0" (81.28 cm)
Frame Width:
24.5" (62.23 cm)
Frame Depth:
2.0" (5.08 cm)
Features:
Framed
Limited Edition(185)
Signed & Numbered on Piece

More Views
Options
After graduating from Tyler School of Art with a degree in Graphic Design, Jessica Hische worked for Headcase Design before taking a position as senior designer at Louise Fili Ltd. She continued developing her freelance career at night, and after two and a half years, she left to pursue lettering and illustration further and to try her hand at type design. Hische and her work have since been featured in many publications, such as CMYK and Uppercase Magazines, as well as in exhibitions both nationally and internationally. Her impressive list of clients includes Chronicle Books, Etsy, GQ Magazine, HarperCollins, Penguin Books, Random House, Tiffany and Co., and Victoria's Secret.
I want this as a print!
We can't promise prints for every piece, but if the interest is high, it may be an option.