PinPalPalooza (Spring 2019)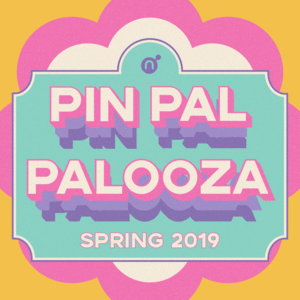 PinPalPalooza (Spring 2019)
May 18, 2019
Opening Reception / May 18, 11:00AM - 5:00PM


share this event
Spring is in the air and Gallery Nucleus is holding our third Pin-Pal-Palooza, a convention for all things enamel/lapel pin-related designed by your favorite artists and more! We've invited many vendors from Los Angeles and beyond, and they'll be setting up shop in our space on Saturday May 18th, 2019. Join us as we welcome new vendors and new exclusives!

EVENT DETAILS
Saturday, May 18th 2019
11:00 AM – 5:00 PM

FREE ADMISSION, Open to the public, No RSVP, All ages welcome


EVENT HIGHLIGHTS

RAFFLE RULES
Select handful of winners will be announced every hour on the hour. Last announcement at 5:00 PM.
Previous hour raffle tickets will be discarded after each winning announcement and not carried over to the next hour.
One pin per winner.
All winners must be present in order to win a pin.
PIN TRADE STATION RULES
Trade station will be located in the gallery on a framed felt board.
Take 1 pin, leave 1 pin.
Hard/soft enamel pins only. No wood, no acrylic, no homemade crafts.
Trades are limited to 2 per person
FEATURED VENDORS

Alex Ahad o_8
Amber Aki Huang
Art Of PAO
Asami Matsumura
Captain Senpai
Clover Scout
DAPshow
DKNG
Genevieve Tsai
GhostRoots
Hey It's Meu
ILOOTPAPERIE
Kelsey Eng
Lauren Abhay
Little Shop of Pins
Lost Lust Supply
Nellie Le
Netherway Workshop
No Man's Press
Ochre Arroyo Studios
Pink Owlet
pixlotl
Rather Keen
Robot Dance Battle
Tiny Deer Studio
Zetallis

Please welcome our friends at Wolf's Brew Coffee, who will be selling delicious iced coffee & cold brew 11 am - 3 pm!