In collaboration with Disney Television Animation, Cyclops Print Works, Inc., and Oh My Disney!, Nucleus is thrilled to host a tribute to the many wonderful TV cartoons by Disney. From going on adventures with the Rescue Rangers to solving mysteries in Gravity Falls, join us as we look back with fond memories of some great Disney Television cartoons throughout the years.
Opening Reception Highlights:
- New and original art paying tribute to Disney TV animated shows on display and for sale
- NEW Nucleus Exclusive print releases
- FREE admissions, themed refreshements, and more!
Featuring Disney cartoons such as:
Chip n' Dale Rescue Rangers
Darkwing Duck
DuckTales
DuckTales (2017)
Gargoyles
Gummi Bears
Talespin
Gravity Falls
Lilo & Stitch: The Series
Recess
Tangled: The Series
Timon and Pumba
Tron: Uprising
Big Hero 6: The Series
Star Vs. The Forces of Evil
Pickle and Peanut
FEATURED ARTISTS
Alan Bodner
Alexandra Neonakis
Bannister
Becky Dreistadt
Brianne Drouhard
Celine Kim
Claire Hummel
Cuddly Rigor Mortis
Dan Matutina
Daron Nefcy
Eastwood Wong
Ellen Surrey
Fawn Veerasunthorn
Grace Kum
Hackto
Heather Franzen
James Silvani
Janice Chu
Jisoo Kim
Joe Dunn
Joey Chou
Julien Rossier
Keiko Murayama
Kevin Jay Stanton
Marie Thorhauge
Michael Bear
Nicholas Delort
Nicole Gustaffson
Pernille Orum
Phillip Light
Ramo
Sara Kipin
Stephanie Ramirez
Teny Issakhanian
Tobias Kwan
Tom Whalen
Yewon Park
Zoe Persico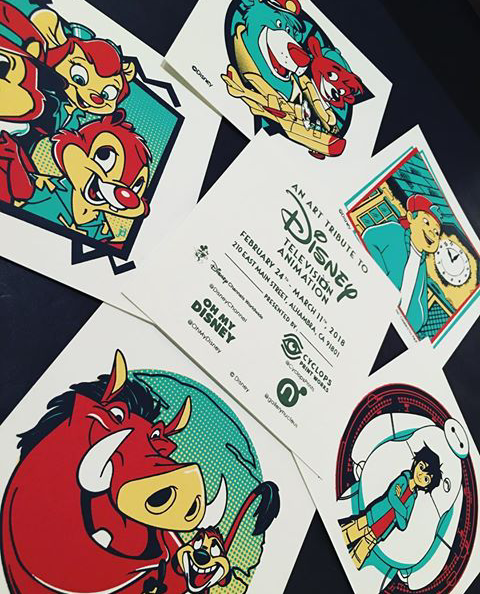 1st 200 people in line get a free handbill +
a free handbill with any purchase from our store!
*Only while supplies last!*