A beautiful collection of new original artwork that depict the artists' interpretations of some of their favorite tales of zodiac signs and other constellation mythology.
*Artist Alina Chau will be in attendance and signing!
Alina Chau
Hiromi Sato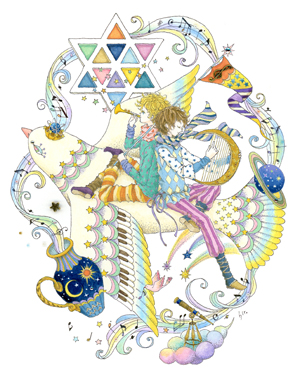 "Aquarius" by Hiromi Sato


ABOUT HIROMI
Zodiac Sign: Aquarius
Lives and works in Kanagawa, Japan.
After graduating from Nippon Designer Gakuin, Hiromi worked as a graphic designer and art director. In 2008, she became an illustrator. Her style is popular for its delicate collage technique using various materials such as vintage buttons, fabrics and laces, which enfold the whimsical world of Hiromi Sato. Her works have been widely selected for picture books, book covers, magazines and periodicals, branding and logos, corporate calendars, and more. Aside from her illustrations, her essays published on her blog have gained popularity, and she has published a book of her collected writings, titled "Precious - Japanese Traditional Lifestyle (Taisetu ni shitai, Nihon no kurashi)". This has led to a currently ongoing design collaboration with famous Japanese cloth company Maruzen, renowned for producing Japanese wrapping cloths (or "furoshiki").
Hiromi is also active in exhibiting her personal artwork worldwide.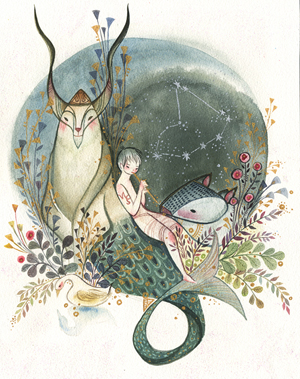 "Capricorn" by Alina Chau


ABOUT ALINA

Alina Chau received her MFA from the University of California, Los Angeles. She spent over a decade working in the animation industry. Her most notable credit is on LucasFilm's Emmy Award Winning program, "Star Wars: The Clone Wars". Alina Chau's whimsical illustration style has been highly sought after for various art exhibitions world-wide. Her lyrical watercolors have garnered her a devoted fan base and the accolades of her peers.
Alina Chau resides in San Francisco and is currently developing her own illustration projects.