Line of Style: Fashion Illustration Spanning the Globe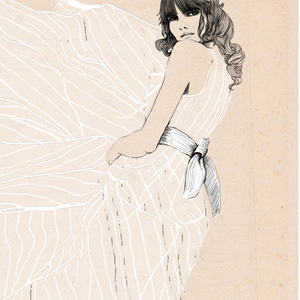 Line of Style: Fashion Illustration Spanning the Globe
April 3, 2010 - April 26, 2010
Opening Reception / Apr 3, 7:00PM - 10:00PM


view pieces
view photos
press release
share this event
"Fashion is not something that exists in dresses only. Fashion is in the sky, in the street, fashion has to do with ideas, the way we live, what is happening."
- Coco Chanel
Artistic representation of fashion has existed since the dawn of civilization. From the statues of Mesopotamia, the walls of Egyptian pyramids, the master paintings of the Renaissance, the cover of Vogue's first issue in 1892, and through today, artists have continued to carefully document fashion of the period. Gallery Nucleus is therefore proud to present our first fashion illustration exhibition.
We are privileged to have an international roster featuring established as well as emerging contemporary fashion illustrators. Exhibiting artists working in a variety of mediums from paint, watercolor, ink, textiles and digital media. These artists have worked with designers such as Dior, Jean-Paul Gualtier, and Marc Jacobs just to name a few. They have graced the pages of publications including, Vogue, Cosmopolitan, Elle, Nylon and many more. We are pleased to showcase the ever expanding world of fashion illustration that represents the latest trends of our time and captivates the greatest styles that will last forever.



Featured Artists
:
Annika Wester
Baiba Ladiga
Bob Peak
Coco Pit

Connie Lim
Eleanor Bowley
Elodie
Erin Petson
Esther Kim
Jarno Kettunen
Laura Laine
Lawrence Noble
Loreto Binvignat Streeter
Monica Velasquez
Naja Conrad Hansen
Ohgushi
Pomme Chan
Robert Tirado
Sandra Suy
Stina Persson
Veronique Meignaud
With Special Guest Designers:
Michel Berandi
Fernanda Pereira
Runway Shows Featuring:
8:00pm
Connie Lim
9:30pm
Valerj Pobega
Installation Design By:
Matik
Guest DJ:
Can You Barrett?