All Together Now: A Tribute to The Beatles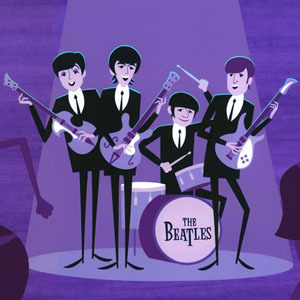 July 7, 2012 - July 29, 2012
Jul 7,
6:00PM - 10:00PM
Fifty years ago, Richard Starkey, a Liverpool drummer that we now know as Ringo Starr, joined what would become the single most influential rock band in history. John, Paul, George and Ringo, The Beatles as billions have come to know and adore, was born in August of 1962 and quickly took the world by storm. To say that no musical act has as heavily impacted modern music and popular culture as much as The Beatles would be an understatement. Their songs, which consistently preach the message of love and togetherness, have left a legacy that has long outlived the band's ten year run. Their undeniably fresh and experimental sound sparked a musical revolution: a turning point that would set the bar for every artist that would later follow. Though The Beatles have sold upwards of an estimated billion albums worldwide, secured their place in the Rock and Roll Hall of Fame, and still hold the record for the most number one singles in the United States, their genius extends far beyond said achievements as they continue to influence a new generation of fans half a century after their humble beginnings.
Join Nucleus as we celebrate 50 years of the Fab Four with a tribute exhibition featuring the works of an exciting group of diverse artists who have all "come together" to honor this legendary act.
FOLLOW OUR BEATLES TRIBUTE BLOG HERE!

Exhibiting Artists:

Alberto Cerriteño
Alexandra Boiger
Alina Chau
Andrew Bannecker
Andy J. Miller
Andy Ristaino

APAK
Becky Dreistadt

Ben Zhu
Benjamin Butcher

Brigette Barrager
Brittney Lee

Brun Croes

Chris B. Murray

Chris Turnham

Christina Song
Cuddly Rigor Mortis

Dan Santat

Dan Thompson
David Au

Dawn Au
Drake Brodahl
Edward Kinsella

Eren Blanquet Unten

Eric Diaz
Felt Mistress

Glenn Kim
Graham Annable
Griselda Sastrawinata
Hermann Mejia

Israel Sanchez

Jackie Huang

Jake Parker

Jeff Victor
Jim Mahfood
Joey Chou

John Malloy
John-Paul Thurlow

John Solimine

Joy Ang

Julia Sonmi
Kevin Chan
Lesley Barnes
LeUyen Pham

Linda Kim

Lorena Alvarez
Mark Sperber
Matik

Matthew Lyons
Mattias Adolfsson

Megan Hughes
Michelle Romo

Nicole Gustafsson
Nimit Malavia

Oliver Akuin
Pat Perry

Patrick Awa
Patrick Hruby

Paul Wee
Perry Dixon Maple

Pete Fowler

Peter Breese
Rich Pellegrino
Robert Valley

Scott Bakal
Scott Balmer
Scott C
Sebastien Mesnard

Shag

Stephen Silver

Terry Fan
Tim Doyle

Veronique Joffre
Victoria Ying

You Byun

Zane Yarborough
A portion of the proceeds from this tribute exhibition will be donated to Doctors Without Borders: an organization dedicated to providing quality medical care to people in crisis all over the world.
Learn more
about their amazing work.
A special live concert performed by Beatles tribute band
Hard Days Night
!
Beatles-themed sweets provided by
Rock N Cupcakes
!
Some artwork may be paid for in installments. Please for details.