5 World's Book 3 Signing & Mini Exhibition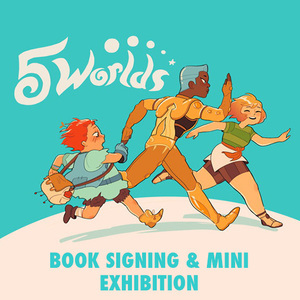 5 World's Book 3 Signing & Mini Exhibition
May 25, 2019
Opening Reception / May 25, 2:00PM - 4:00PM
63 days away

add to calendar (.ics)
share this event
Simultaneously featured in our Atrium Gallery:
Monmon Cats: Horitomo Solo Exhibition
May 25, 2019 - June 9, 2019
Opening Reception / May 25, 6:00PM - 9:00PM
63 days away

add to calendar (.ics)
share this event
Join us, Saturday May 25 as we host Boya Sun and Xanthe Bouma, illustrators of the gorgeous 5 Worlds series, for a signing and mini exhibition!

Come by to meet the artists and purchase the newest installment of the series! Each purchase of the book comes with special collectible book mark set!

Check back on this page as we announce more info...!