Pin-Pal-Palooza SPRING 2018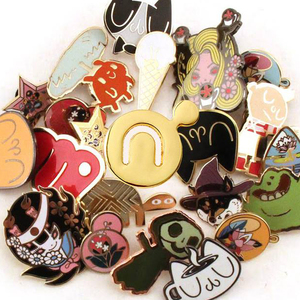 Pin-Pal-Palooza SPRING 2018
May 5, 2018
Opening Reception / May 5, 11:00AM - 5:00PM
44 days away

add to calendar (.ics)
share this event
Spring is in the air and Gallery Nucleus is holding our third Pin-Pal-Palooza, a convention for all things enamel/lapel pin-related designed by your favorite artists and more! We've invited many vendors from Los Angeles and beyond, and they'll be setting up shop in our space on Saturday May 5th, 2018. Join us as we welcome new vendors and new exclusives!

EVENT DETAILS
Saturday, May 5th 2018
11:00 AM – 5:00 PM

FREE ADMISSION, Open to the public, No RSVP, All ages welcome


EVENT HIGHLIGHTS
Raffle Giveaway. Winner announced each hour starting at 1:00 pm. Grand prize of all 8 Nucleus-exclusive pins at 5:00 pm.
Select artists will debut new pins at the event; stay tuned to our social media for release announcements!
Each vendor table will be selling pins and other goodies in the Main Gallery as well as the Atrium Gallery

Trading Post - leave a

pin

, take a

pin

..more tba!
FEATURED VENDORS

100% Soft
BB-CRE.8
Blue Ruin Co.
BOSSDROPS
Clover Scout
Doggie Drawings by Lili Chin
ilootpaperie
Little Shop of Pins
Lost Lust Supply
Midnight Dogs
Nana Williams
Nellie Le & Hey It's Meu
Netherway Workshop
Night Cake Press
OMOCAT
Pin Museum / Blue Ruin Co.
Pink Owlet
Rather Keen
Robot Dance Battle LLC
Single Pickles
sohsilly
SpaceWalk Pins
Special Ed Toys
The Little Friends of Printmaking
Tony Bui
Yetis and Friends

..more tba!