JOIN US SATURDAY NIGHT 10/28 FOR A WICKED & SPOOKY SIGNING!!
Continuing our Blizzard Entertainment book launches this October, Gallery Nucleus is proud to be the FIRST retail location to stock Insight Edition's newest titile, the Official Hearthstone: Innkeeper's Tavern Cookbook written by Chelsea Monroe-Cassel!

Join us this October 28 starting at 5PM to be among the first to grab your copy! Come meet the author Chelsea Monroe-Cassel as she signs copies of her new book & sample delicious RECIPES/COCKTAILS inspired by the world of HEARTHSTONE before they're all gone!
FREE ADMISSION, ALL AGES, HALLOWEEN COSTUMES AND COSPLAY ENCOURAGED!
SCHEDULE
5PM–6:45PM Signing
7PM–10PM Catered closing reception
EVENT HIGHLIGHTS
Author Chelsea Monroe-Cassel to in attendance & signing!
Nucleus will be the FIRST retail location for the release of Hearthstone: Innkeeper's Tavern Cookbook!
Sample select RECIPES & COCKTAILS from the 
cookbook!
The Art of Overwatch & Samwise Didier's The Last Winter artwork still on display & for sale
Blizzard Entertainment themed pop-up shop!
Live DJ
Free raffle giveaways!
Let us know you're going HERE:
Hearthstone:Innkeeper's Tavern Cookbook Signing w/ Chelsea Monroe-Cassel
About the author
A lifelong artist and fan of fantasy, Chelsea Monroe-Cassel found an outlet for her multifaceted creativity with the Game of Thrones food blog, Inn at the Crossroads. It was so successful that it quickly spawned an official cookbook, which has received rave reviews from fans and critics alike. Like the literature she loves, Chelsea's work is a synthesis of imagination and historical research. She is now focused on bringing other fantasy worlds to life through food, photography, art, and digital media.

Visit Chelsea's website here.

In collaboration with...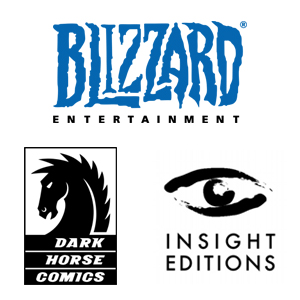 About Blizzard Entertainment, Inc.
Best known for blockbuster hits including World of Warcraft®, Hearthstone®, Overwatch®, the Warcraft®, StarCraft®, and Diablo® franchises, and the multi-franchise Heroes of the Storm®, Blizzard Entertainment, Inc. (www.blizzard.com), a division of Activision Blizzard (NASDAQ: ATVI), is a premier developer and publisher of entertainment software renowned for creating some of the industry's most critically acclaimed games. Blizzard Entertainment's track record includes twenty-one #1 games* and multiple Game of the Year awards. The company's online-gaming service is one of the largest in the world, with millions of active players.
*Based on internal company records and reports from key distribution partners.
About Insight Editions
Celebrated for its unwavering dedication to quality, Insight Editions is a publisher of innovative books and collectibles that push the boundaries of creativity, design, and production. Through its acclaimed film, television, and gaming program, Insight strives to produce unique books and products that provide new ways to engage with fan-favorite characters and stories. Under this program, Insight has published books covering the worlds of Star Wars, Game of Thrones, The Walking Dead, Destiny, Assassin's Creed, Halo, Diablo, World of Warcraft, and the Harry Potter films, among many others. Insight's award-winning art, photography, and sports titles celebrate the artistry and history of a wide-range of subjects that include the Rolling Stones, John Lennon, Kurt Cobain, Johnny Cash, the San Francisco Giants, and the Dallas Cowboys. Other divisions include a line of deluxe stationery products, as well as a children's imprint, Insight Kids. For more information, visit www.insighteditions.com.